An expertly-embellished curtain rod can boost the "wow" factor of your window treatments, and help attain the luxurious look for your space. If you're unable to decide on the right curtain rods for your window treatments, you're not alone. Several people cannot choose the right one that complements your window treatments as well as your interior décor.
We've covered all the details you should know before you decide on a particular curtain rod. From the varieties of curtain rods available to purchasing the best-suited ones, this precise guide covers everything that you are looking for.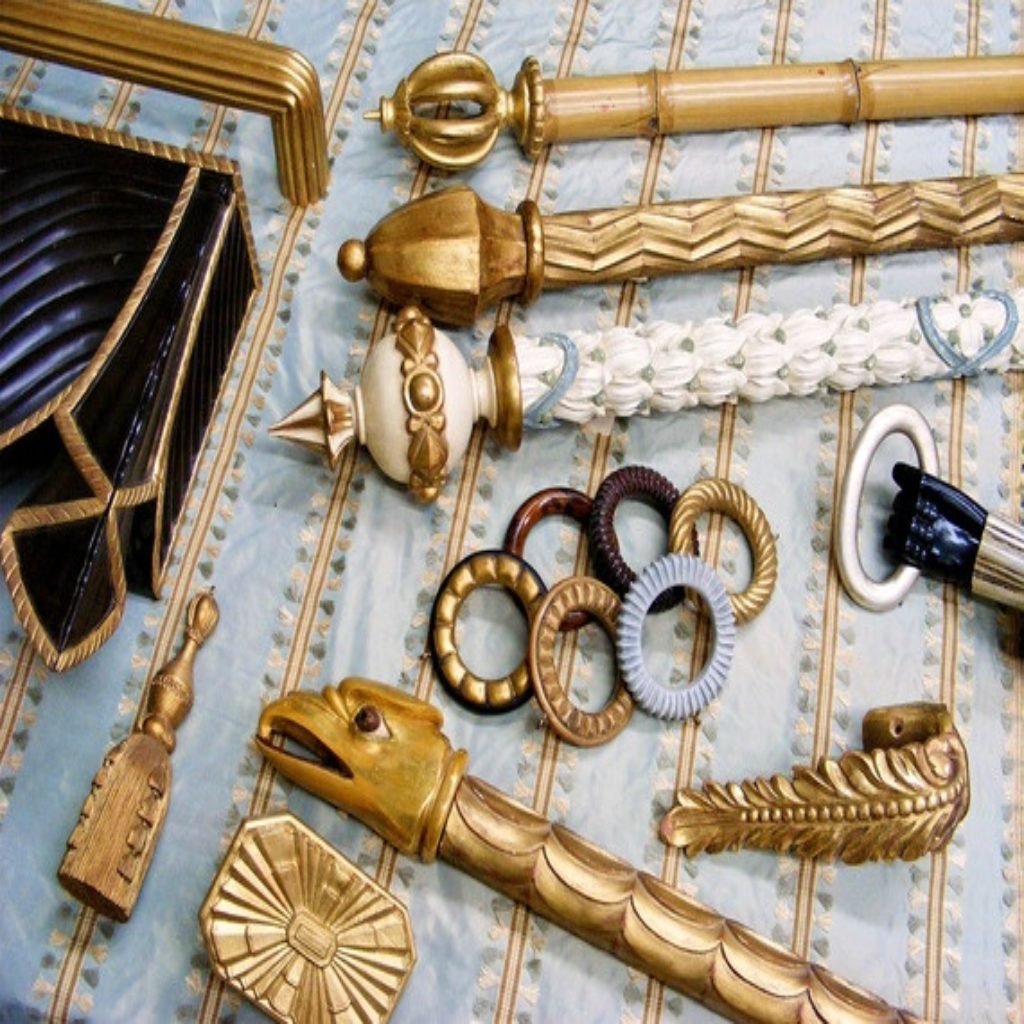 Find out How Much Weight You Want It to Support:
First of all, selecting a curtain rod should rely on the curtain fabric—heavier curtains require robust rods to stay in place for a longer time. If you are planning to install heavier curtains for your window treatments, you should consider purchasing the rods that are crafted to withstand heavy fabric.
Keep Your Room Requirements in Mind:
Some specific rooms certainly require a specific type of curtains and rods. For example, your kitchen and bathroom need custom rods to meet the specific window requirements. They have smaller windows and you need to install valances paired with adjustable rods.
Decide on the Color and Finish:
Now it comes to finding the right color and finish of your curtain rods that add dimension to your windows. If you are planning to install linen curtains, then pair them with a sleek and cast-iron curtain rod to enhance your window treatment.
On the other hand, choosing metallic finish curtain rods can help you add depth to the aesthetic attraction of your room. And wooden curtain rods are frequently recommended to pair with cotton curtains to create a relaxing space.
Take Care of the Length of Your Curtain Rods:
Don't ignore the significance of the length of your curtain rods. As a general rule of thumb, a curtain rod should be 4-6 inches more than the length of your window frame. An extended rod creates a grand look, giving more space to open your window.
Select the Best-Suited Curtain Rods That Suit Your Style and Home Décor:
A carefully-selected curtain rod can add so many elegant touches to your home's unique interior décor. To meet your requirements, manufacturers offer a large selection of decorative rods in different shapes and designs.
Below are some popular types of decorative curtain rods that you can choose for your custom window treatments:
Single Rods: A single rod is one of the most common categories of curtain rod that comes with a single rod and capped with a decorative finial. Such rods are installed to hang single curtains.
Double Rods: As the name suggests, double rods are crafted with two separate parallel rods, along with some other decorative pieces. It is preferably ideal for rooms with large window frames. If you want to install blackout curtains in your living room, using double rods will add to its basic functionality.
Traverse Rods: Traverse rods feature clips to hold the curtains. These rods are generally recommended for wide window frames, or for the rooms that need divider curtains.
Wrapped Rods: Wrapped rods should ideally be used for blackout curtains. If you want to darken a room, go for the wrapped rods that can help you use your curtains to block the sunlight coming into your room.
How to Install Curtain Rods?
Installing a curtain rod may look like a tricky and intimidating task, but Galaxy Design offers some important tips to help you make it easy and flawless exercise for you. Do you have a large window and need privacy/sun protection? Galaxy Designs recommends installing a heavy-duty deco rod, which everything you need.
Watch this video to learn the tips for installing heavy-duty deco rods in your room:
READ MORE
Designs & Inspiration Blog
How many types of Window Treatments are there?
There are many types of window treatments out there, we gathered all types of treatments and combine them in four main categories:
Window treatments that are made of soft materials such as curtains, sheer curtains, drapes, swag and valances

Window treatments that are made of hard material like blinds shutters, shades etc.

Window films and stickers

A combination of both hard and soft window treatments.
READ MORE
WINDOW TREATMENT CHOICES FOR YOUR HOUSE
There are many types of window treatments out there, we gathered all types of treatments and combine them in four main categories:
Window treatments that are made of soft materials such as curtains, sheer curtains, drapes, swag and valances

Window treatments that are made of hard material like blinds shutters, shades etc.

Window films and stickers

A combination of both hard and soft window treatments.
Which rooms to start with?
Hard Window Treatments
Window Shutters
Also known as board and baton (bnb), panels, slats or louvered shutters. They are made of wood and plastic materials, ideal for exterior windows. They can help in controlling light, they can provide privacy, hides an undesirable view. They can be just for decoration purposes or used for functional aspects as well. Window shutters are ideal for exterior windows.
There is a vast variety of shades and blinds available nowadays. From Roman shades to Venetian blinds. Shades are mostly made of hard wood and plastic or metal material whereas blinds can be made from fabric, vinyl, paper or card. Both treatments are considered to be fixtures because they are fixed and cannot be drawn like a curtain or drapery, on the other hand, they can be controlled with cords and wands.
Shades and blinds are ideal for kitchens, patio, bathroom and can be used in the family room also. They are available in a variety of colors and prints. Famous types of shades and blinds are wood woven shades, Venetian blinds, roller shades, roman blinds, vertical shades, horizontal shades etc.
Panels are like room dividers which can be used as window treatments, originally from Japan, they are made of rice paper, bamboo, wood, vinyl and nowadays stained-glass ones are famous. They can act as a decoration component in any room.
There are two types of panels, folding panels like screens and panel tracks which runs on a track like a sliding window panel. Ideal for interiors, they can be used in any room. Panels provide a stylish yet luxurious effect in any space.
Soft window treatments
Curtains are made of soft materials like fabrics. When talking about curtains certain things come in mind as Will curtains keep my room warmer or will they keep it cooler?
One should know that curtains are versatile as they can control light provide privacy, add as a decoration element solely or a functional element like hiding an unwanted view. Curtain types are pleated, pinch-pleats, eyelets, ruffled, sheer fabric and café curtain etc. They come in many different colors and prints for interiors; they can be as formal and as casual accruing to your choice. Some curtains require a lining for blocking a light properly, some don't.
Draperies
Draperies are made from heavier fabrics like velvet, jacquard. Draperies are for formal areas as they are made of fine fabrics like satin, silks, and velvets. Draperies need high maintenance. They act as a main focal point in any room when mixing with other types of tops and headers. Come in many colors and prints according to taste Like curtains, drapes are available by length and width. For both, it's necessary to have the right hardware for hanging them, including curtain or drapery rods.
May draw across the rod or remain stationary on either or both sides of the window. They add sophistication and elegance to any room. Ideal for interior formal zones like dining and living areas.
Window stickers and films
If you are looking for a low-cost window treatment, window films and stickers are for you. They come in different types like decorative, frosted, stained glass, etched plain, opaque ones to full bright floral and animated ones. With a vast variety of patterns and color choices.
They can add an oomph factor to any room. Window films come with adhesive on one side you can just peel and stick it on windows. Some are waterproof. easy to maintain and clean. Ideal for bathrooms, kitchen and kids' room.
Combination of both hard and soft window treatments
Soft window treatments like roller shades can be combined with hard window treatments like cornice and Valances to give a layered and more complete look. Both combined can add some design elements to your windows, you can add shades with sheer fabrics or drapes with cornice on top to hide hardware. These are available in assorted colors and designs, so you'll want to go with something that matches the theme of the room.
Watch how to order
Call now 866-215-3173#1
READ MORE