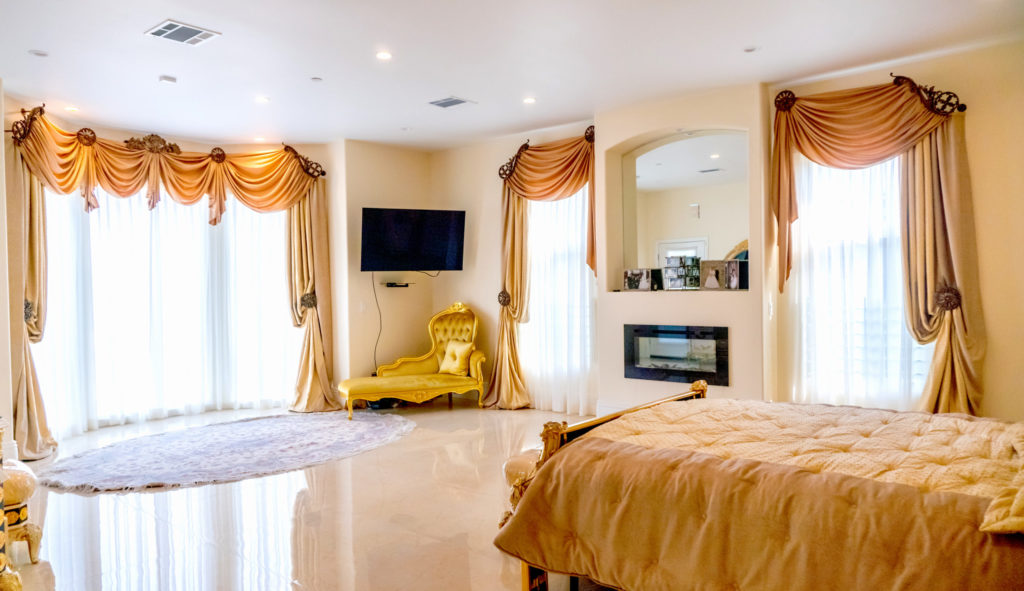 Curtains are far more than just random bits of fabric that block out light and provide protection at night. They, like all other elements of interior design, contribute to the overall aesthetics of a space and the overall composition of your house. A poor curtain selection can also make a significant difference in the ambiance and vitality of a venue. Instead of being background players, the right curtains will complement the decor of your bedroom, lounge, or dining room, and blend in with other interior design features to neatly finish the piece. Curtains are considered a multipurpose interior designing item which can be used for various of purposes inside home. But what are these purposes that makes this fabric an important and useful home décor element? Let's take a look –
Using curtains as a living space divider is a fun and creative way to bring interest and variety to contemporary interior design and decor. Drapes partition a room into two temporary living spaces in an effective and appealing way. To make an elegant room divider, you'll need a lovely drapery cloth, a curtain cable set, and drapery grommets. Choose a curtain style that hangs flat when completely stretched, such as a tab top drapery design, a pocket curtain, or a grommeted design.
If you have an unusable door or entrance, using drapery fabric to cover such space with a variety of interesting drapery patterns that matches wall-color is a fantastic idea. In the winter, you should decorate a door to your porch or balcony to keep your home warm and inviting. Floor-length draperies that match your window treatments make your room look more elegant. Use the same draperies on the windows and doors to give the appearance of a trendy and sophisticated interior design.
Curtains are also suitable for creating privacy around a sleeping area, such as in studio apartments where the living room doubles as a bedroom or in multi-purpose spaces with a guest bed. Black-out and sound-dampening curtains are especially helpful if any people may need to use the space while others are sleeping.
A curtained-off desk might be an easy option if you don't have room for an office or research but still need a dedicated work space. It means you can quickly close it up at the end of the day and provide a barrier between work and home life – which is especially important if it's in a living room or bedroom where comfort is important. After all, no one needs to be bothered by stacks of papers or incomplete to-do lists while trying to relax or sleep! The desk is situated in one of the examples below, so the curtain serves two purposes; in the other, it sits in a nook that can be screened off or opened up if desired.
Bookcases, Open wardrobes, hanging rails, the kitchen island, sinks, and shelves all benefit from drapes. Drapery fabric protects books and clothes on open shelves from dust and the sun's harmful rays. Beautiful draperies are also great for decorating storage areas that we don't want to see all of the time. These eyesores are transformed into something lovely thanks to stunning drapery designs and textures. Vintage home decor ideas for a glass door and soft curtains Using picture frame molding to frame the exterior of the bookcase first for a full-height bookcase with open shelves. Install one of the light drapery rods within the very top of the frame such that the curtain seems to be streaming straight out of the frame.
The significance of curtains in terms of home decor cannot be overstated. They're brilliant as both glamorous show-stealers and complementing backdrops, but that's not it! Curtains, when used thoughtfully, will help you achieve your ideal architectural objectives and deceive the eye, make space appear larger or smaller (as desired).
READ MORE
Designs & Inspiration Blog
How many types of Window Treatments are there?
There are many types of window treatments out there, we gathered all types of treatments and combine them in four main categories:
Window treatments that are made of soft materials such as curtains, sheer curtains, drapes, swag and valances

Window treatments that are made of hard material like blinds shutters, shades etc.

Window films and stickers

A combination of both hard and soft window treatments.
READ MORE
WINDOW TREATMENT CHOICES FOR YOUR HOUSE
There are many types of window treatments out there, we gathered all types of treatments and combine them in four main categories:
Window treatments that are made of soft materials such as curtains, sheer curtains, drapes, swag and valances

Window treatments that are made of hard material like blinds shutters, shades etc.

Window films and stickers

A combination of both hard and soft window treatments.
Which rooms to start with?
Hard Window Treatments
Window Shutters
Also known as board and baton (bnb), panels, slats or louvered shutters. They are made of wood and plastic materials, ideal for exterior windows. They can help in controlling light, they can provide privacy, hides an undesirable view. They can be just for decoration purposes or used for functional aspects as well. Window shutters are ideal for exterior windows.
There is a vast variety of shades and blinds available nowadays. From Roman shades to Venetian blinds. Shades are mostly made of hard wood and plastic or metal material whereas blinds can be made from fabric, vinyl, paper or card. Both treatments are considered to be fixtures because they are fixed and cannot be drawn like a curtain or drapery, on the other hand, they can be controlled with cords and wands.
Shades and blinds are ideal for kitchens, patio, bathroom and can be used in the family room also. They are available in a variety of colors and prints. Famous types of shades and blinds are wood woven shades, Venetian blinds, roller shades, roman blinds, vertical shades, horizontal shades etc.
Panels are like room dividers which can be used as window treatments, originally from Japan, they are made of rice paper, bamboo, wood, vinyl and nowadays stained-glass ones are famous. They can act as a decoration component in any room.
There are two types of panels, folding panels like screens and panel tracks which runs on a track like a sliding window panel. Ideal for interiors, they can be used in any room. Panels provide a stylish yet luxurious effect in any space.
Soft window treatments
Curtains are made of soft materials like fabrics. When talking about curtains certain things come in mind as Will curtains keep my room warmer or will they keep it cooler?
One should know that curtains are versatile as they can control light provide privacy, add as a decoration element solely or a functional element like hiding an unwanted view. Curtain types are pleated, pinch-pleats, eyelets, ruffled, sheer fabric and café curtain etc. They come in many different colors and prints for interiors; they can be as formal and as casual accruing to your choice. Some curtains require a lining for blocking a light properly, some don't.
Draperies
Draperies are made from heavier fabrics like velvet, jacquard. Draperies are for formal areas as they are made of fine fabrics like satin, silks, and velvets. Draperies need high maintenance. They act as a main focal point in any room when mixing with other types of tops and headers. Come in many colors and prints according to taste Like curtains, drapes are available by length and width. For both, it's necessary to have the right hardware for hanging them, including curtain or drapery rods.
May draw across the rod or remain stationary on either or both sides of the window. They add sophistication and elegance to any room. Ideal for interior formal zones like dining and living areas.
Window stickers and films
If you are looking for a low-cost window treatment, window films and stickers are for you. They come in different types like decorative, frosted, stained glass, etched plain, opaque ones to full bright floral and animated ones. With a vast variety of patterns and color choices.
They can add an oomph factor to any room. Window films come with adhesive on one side you can just peel and stick it on windows. Some are waterproof. easy to maintain and clean. Ideal for bathrooms, kitchen and kids' room.
Combination of both hard and soft window treatments
Soft window treatments like roller shades can be combined with hard window treatments like cornice and Valances to give a layered and more complete look. Both combined can add some design elements to your windows, you can add shades with sheer fabrics or drapes with cornice on top to hide hardware. These are available in assorted colors and designs, so you'll want to go with something that matches the theme of the room.
Watch how to order
Call now 866-215-3173#1
READ MORE