Your room's look is molded by curtains completely, and we know you value this statement too. Starting from acting like an insulation and privacy provider, curtains are outstanding and crucial element to shape your room differently. Usually when you look around yourself, you observe curtains handing in a usual manner making it a cliché idea to apply on your new home décor. Here are some super amazing guides to dress up your room with curtains, adding a creative outlook to the room.
Before walking through curtain hanging ideas, let's show you certain DIY Curtains and installation ideas to increase your scope for curtain decorations.
Curtain Track
It is an elegant way to hang curtains which are not visible from outside, giving you a clean look. These are also preferred for curved windows letting curtains to smoothly move from one edge to other without distorting the room look. If you are searching for DIY Sliding glass door curtains, Curtain track will blend easily with it.
Curtain Pole
A curtain pole is installed at outer surface of the window and is displayed above the curtains. It is really effective if you are planning to install heavy curtain to your window.
Overlapping Curtains
It will be a classing and graceful look of your curtain, especially if it's a sheer one, put tow layer of curtains above each other while connecting the clip curtain rings of them into the curtain rod.
Curtain Rod
You can put a tiny rod at the edge of your window and sip it into the hole of the curtain. After the curtain hole gets inserted into it, put the other corner of the rod to the window and enjoy the classy look of the curtain.
Below are the DIY curtain hanging ideas that you are looking for your room to make it an interesting one.
You can turn your curtain fabric back on itself to create a pocket which can be slipped into curtain rod. Thus pole pocket curtain hanging idea will give your curtain a heavy look.  
Here the curtains are hooked with rings that are put onto the curtain pole. It's the most easy and simple way to hang and remove curtains, with an elegant touch.
Eyelet hanging curtains will give you a pleasant soft folded look to the window treatments which is installed upon curtain poles. And for putting curtains in your sliding door, eyelet will be the best DIY sliding glass door curtains for it.
Tab-top curtains can be handed with curtain poles as they have loops at the top, giving it an urban look. These are really explosive curtains and so, use a good quality fabric here for good finish
To give your home a cool, rustic and relaxed style, Tie-top DIY curtain hanging ideas is worth of it. You need to simply tie up ribbons attached at the curtain top around the rod. Use light fabric and linens with that.
These are the long, tight folds of curtains on the rod, giving it a pencil shape. You can experiment different colors and weight with it.
Tab-top curtains can be handed with curtain poles as they have loops at the top, giving it an urban look. These are really explosive curtains and so, use a good quality fabric here for good finish
To give your home a cool, rustic and relaxed style, Tie-top DIY curtain hanging ideas is worth of it. You need to simply tie up ribbons attached at the curtain top around the rod. Use light fabric and linens with that.
These are the long, tight folds of curtains on the rod, giving it a pencil shape. You can experiment different colors and weight with it.
READ MORE
The keys to your new home are in your hand, and you finally own your dream home you have been wishing for since your childhood. But the actual thing that makes your home picture-perfect is still ahead of you. Update your space with luxurious window treatments that speak of your style preferences.
Galaxy Design offers a comprehensive solution to your curtain and drapery requirements. We believe your new home deserves custom window treatments that can allow an air of elegance to your rooms. With the luxurious feel and soothing elegance, our drapes and curtains are expertly crafted to transform your home.
If you are planning to invite your friends to your home for an event but your home is not aesthetically ready to grace your event, Galaxy Design has the best solution to help you create an elegant and relaxing space for your event. Explore our custom-made drapes, blinds, curtains, and drapery hardware to uplift your home décor.
What's Your Home's Interior Theme?
Window treatments are a major design upgrade for any room. Before you start choosing curtains and drapes, you must make sure you keep your home's interior theme in your mind. Your flooring and color palette can create an amazing aesthetic tone when they harmonize well with the selected window treatment products.  
We at Galaxy Design offer free design consultation to help our clients find the most elegant curtains and drapes for your home.
Is Your Window Ideal for Shades or Drapes?
Look at the size and shape of your windows—they will help you choose ideal products that fit your windows perfectly. Shades are generally recommended for small windows, multi-sectional windows, and the window frames that are high above the floor.
On the other hand, drapes can work beautifully with multi-sectional, and wide & tall windows. Choosing perfect products for your window treatments can add dimension, privacy and sophistication to your space.  
Call Galaxy Design to book an expert consultation in order to find your design for your home or office.
Some of our best window treatment products for your new home are mentioned below. Check out our selections to find the following products:
The Team of Galaxy Design
Galaxy Design is a group of experienced professional designers who are ready to provide solutions to your window covering needs. If you are not sure which design suits your interior décor, our experienced consultants are ready to listen to your window treatment requirements subtly. Our consultants know what to suggest to you as per your style preference and budget.
What are you waiting for? Visit us or dial our phone number to talk to our professional consultants.
Why Choose Us for Your Window Treatment Needs:
If you look forward to creating a relaxing space in your new home, Galaxy Design is your destination to find unique drapery design and attractive hardware for your windows. We have:
Friendly and knowledgeable customer care specialists to help you find a unique design
Experienced designers who work with you until you find the picture-perfect window treatments for your home
Exclusive range of Royal Drapery Designs packages Made in the USA
Hand-painted Captivating Drapery Hardware embellished with Swarovski crystal elements
FREE design consultation for our clients
Window treatment options with a 5-Year warranty and 100% Customer Satisfaction
Call us today and get expert support from our customer-friendly specialists. If you are not satisfied with our elegant drapery packages or other products, let us know your requirements—we will work until you find what you are looking for.  
READ MORE
An expertly-embellished curtain rod can boost the "wow" factor of your window treatments, and help attain the luxurious look for your space. If you're unable to decide on the right curtain rods for your window treatments, you're not alone. Several people cannot choose the right one that complements your window treatments as well as your interior décor.
We've covered all the details you should know before you decide on a particular curtain rod. From the varieties of curtain rods available to purchasing the best-suited ones, this precise guide covers everything that you are looking for.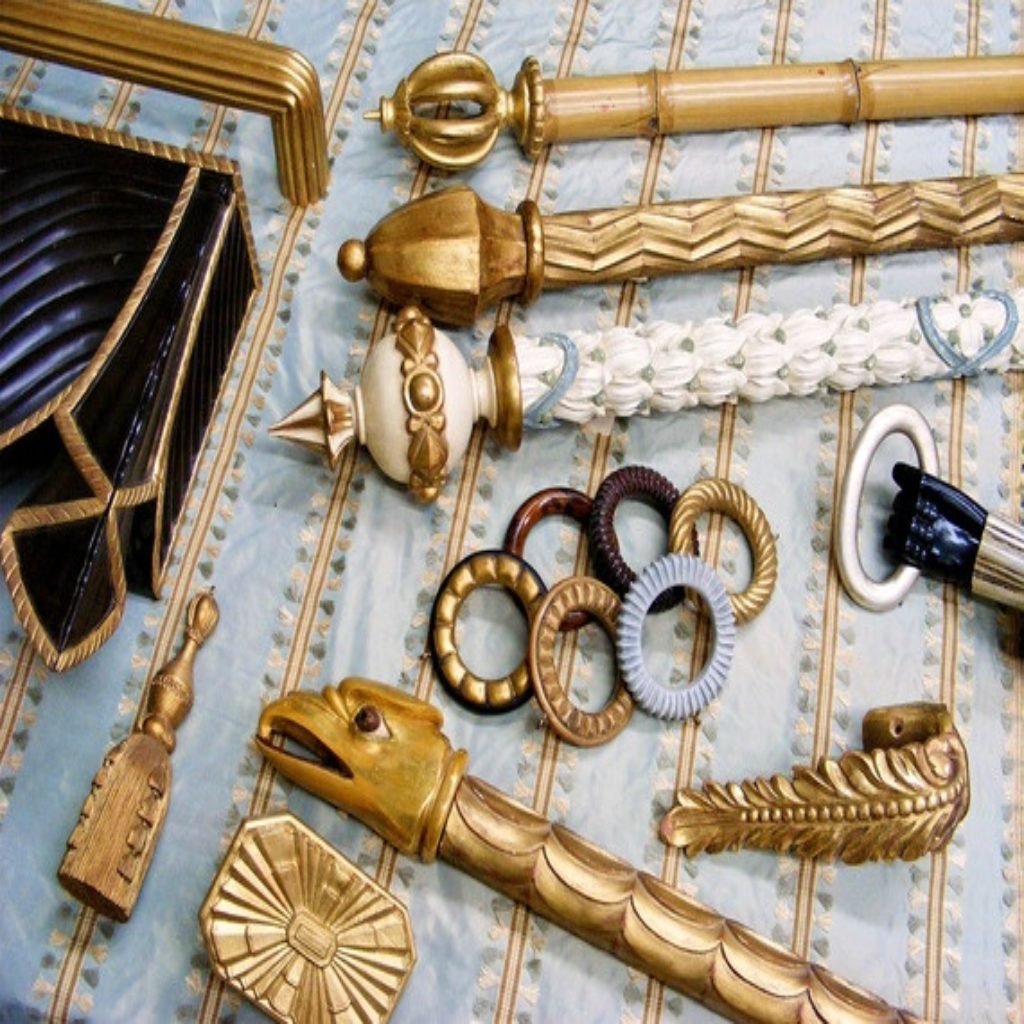 Find out How Much Weight You Want It to Support:
First of all, selecting a curtain rod should rely on the curtain fabric—heavier curtains require robust rods to stay in place for a longer time. If you are planning to install heavier curtains for your window treatments, you should consider purchasing the rods that are crafted to withstand heavy fabric.
Keep Your Room Requirements in Mind:
Some specific rooms certainly require a specific type of curtains and rods. For example, your kitchen and bathroom need custom rods to meet the specific window requirements. They have smaller windows and you need to install valances paired with adjustable rods.
Decide on the Color and Finish:
Now it comes to finding the right color and finish of your curtain rods that add dimension to your windows. If you are planning to install linen curtains, then pair them with a sleek and cast-iron curtain rod to enhance your window treatment.
On the other hand, choosing metallic finish curtain rods can help you add depth to the aesthetic attraction of your room. And wooden curtain rods are frequently recommended to pair with cotton curtains to create a relaxing space.
Take Care of the Length of Your Curtain Rods:
Don't ignore the significance of the length of your curtain rods. As a general rule of thumb, a curtain rod should be 4-6 inches more than the length of your window frame. An extended rod creates a grand look, giving more space to open your window.
Select the Best-Suited Curtain Rods That Suit Your Style and Home Décor:
A carefully-selected curtain rod can add so many elegant touches to your home's unique interior décor. To meet your requirements, manufacturers offer a large selection of decorative rods in different shapes and designs.
Below are some popular types of decorative curtain rods that you can choose for your custom window treatments:
Single Rods: A single rod is one of the most common categories of curtain rod that comes with a single rod and capped with a decorative finial. Such rods are installed to hang single curtains.
Double Rods: As the name suggests, double rods are crafted with two separate parallel rods, along with some other decorative pieces. It is preferably ideal for rooms with large window frames. If you want to install blackout curtains in your living room, using double rods will add to its basic functionality.
Traverse Rods: Traverse rods feature clips to hold the curtains. These rods are generally recommended for wide window frames, or for the rooms that need divider curtains.
Wrapped Rods: Wrapped rods should ideally be used for blackout curtains. If you want to darken a room, go for the wrapped rods that can help you use your curtains to block the sunlight coming into your room.
How to Install Curtain Rods?
Installing a curtain rod may look like a tricky and intimidating task, but Galaxy Design offers some important tips to help you make it easy and flawless exercise for you. Do you have a large window and need privacy/sun protection? Galaxy Designs recommends installing a heavy-duty deco rod, which everything you need.
Watch this video to learn the tips for installing heavy-duty deco rods in your room:
READ MORE
Valances have become an incredibly popular option in recent times. If you are dressing windows, you can install these DIY swag curtains on your own. When it comes to installing valances for standard windows, there are certain things that you need to do. We have prepared a guide just for you so that you can place our three-piece crown set known as the Venetian Crown Dash Three.
Install these amazing valances as they come pre-assembled. All you have to do is put them up. With our easy-to-follow instructions, the Venetian Crown Dash Three will be placed in no time. Galaxy Design offers the best valances and curtains that will transform your home with minimal effort. Our valances are designed to suit all types of rooms. Go ahead and follow these steps to install our amazing valances.
Gather the Materials
Before you can hand our valances, you need to have the right set of tools. We suggest that you gather following materials.
Drill

Level

Screws

Wall-Mounting Brackets

Curtain Rod

Valance Rod

Pencil

Tape Measure
Select the Correct Hardware
When installing the valance, you need to keep in mind that the wall-mounting brackets for the curtain rod have to be half their length. For instance, if the curtain brackets are only two inches in length, the valance brackets would need to be four inches in length.
Install Curtain Brackets
The placement of the initial bracket should be marked using a pencil and tape measure. For longer curtains, you will need to place the curtain rods a bit higher. The pencil should be used to mark the initial curtain bracket. Then, you will need to do the same for the second bracket. After you have marked both the brackets, you need to use a level to check and see if the marks even properly aligned. Once you are satisfied, you can proceed with drilling the wall to place the brackets using screws.
Install the Valance Brackets
The placement of the valance brackets needs to be measured and marked above the curtain rod. Make sure that the alignment is checked using a level to correctly drill the wall.
Hang the Curtain
Run the curtain rod over the tabs if you are installing tab-top curtains. Then, you can hang the brackets of the rod. When using curtain rings or any other hardware, ensure to attach that hardware to the curtains. After that you can hang the rod onto the brackets.
Hang the Valance
Finally, the valance run should be run through the top or curtain hardware will need to be used for attaching the rod and valance. It all depends on the style of valance you have noticed. Then, the valance rod needs to be attached to the brackets and the valance would be adjusted accordingly for spreading the fabric evenly.
Conclusion
Once you have gone over our post, you will be able to install our Venetian Crown Dash Three with minimal effort.
READ MORE
Whenever you welcome someone into your home, you want them to feel comfortable and at ease in the surroundings you have created. It is the goal of nearly every homeowner to spend time creating a space that is reflective of their unique and beautiful personalities. This can be done through the colors of paint on the walls, styles of furniture, flooring and artistic touches that are added via wall hangings or other fine art pieces.
All of these specialized touches create a dwelling space that is special. However, one huge area of interior design impact that is often overlooked is the value that beautifully customized window treatments can add. You can find an abundance of luxury window treatment ideas with Galaxy Design curtains.
Scroll to the bottom to see how!
Galaxy Design curtains come in an incredible selection of styles, fabrics, and lengths. Our draperies, such as our DIY swag curtains, also include dazzling hand painted hardware options that you will not find anywhere else. From modern and sleek to specialty hardware encrusted with hand set Swarovski crystals, you will not struggle to find a wide variety of window treatment ideas to dress the windows of your home.
Our ordering process is simple, and we will be with you every step of the way. When you decide that it is time to update the look of your current curtains or you are moving into a new space and starting fresh, simply reach out to one of our design specialists.
Our friendly and knowledgeable team of design experts will promptly set up a video conference to speak with you in person about the vision you have for your window treatments. They will view your windows and also work from any photographs you provide.
Once your complimentary consultation is done, our gifted window treatment designers will mail you a pallet of suggested fabric, style and hardware options. This will give you the chance to view our high-end line of window treatment ideas in your home with your own eyes.
We only use the most elegant fabrics such as silk, beautiful and durable polyesters and unique natural blend materials. Once you handle these drapery options, you will find that each is more beautiful than the next. Add our custom decorative hardware, and you will be able to create a look that makes a stunning statement in any room of your home.
When you have made your final design choices for fabric, style and hardware, Galaxy Designs will quickly ship you everything that you need to do a professional installation on your own. Our curtain designs, such as our DIY swag curtains will include every last piece you need, as well as detailed instructions to make installing your window treatments a breeze. All it takes is a small amount of time and a few simple tools that you most likely already have in your home.
Galaxy Designs is honored to partner with you in creating an elegant and welcoming home that you and your cherished guests can enjoy now and for years to come.
Check out our design in action here:
READ MORE
New curtains can make a big difference to the look and feel of a house. It gives your house a fresh feeling, what's better than that? Well, there is one more thing. Curtains can give your house some extra color to make it feel more homely and it's what makes your house stand out from the rest of the neighborhood.
Shopping for curtains can be stressful as you can't risk buying the wrong curtains, they have to be absolutely perfect. That's where Galaxy Design comes in. You can first browse our wide range of unique designs on our easy to navigate and easy to use website. This is perhaps the hardest part of the whole process as there is so much choice! We have multiple selections of luxury looking curtains in exquisite colours.
Once you have seen a couple of designs that you like you don't have to choose immediately. The great advantage of using Galaxy Design is that you can order a design kit which will be delivered straight to your house within a few days!
The design kit includes a few fabric and hardware samples so you can see it in the setting of your own home. Trying out the different designs and fabrics will allow you to be sure you're choosing the right designs for your home. Try them out in a few different settings, day and night, and perhaps ask some people what they think of it. Then you will be absolutely sure you're making the right decision. Our packages are customized by you, the client, and therefore you will be sure to receive exactly the one-of-a-kind curtains you're looking for.
When you have decided which design you would like to go for, the next step is again an easy one, you can order your curtains by phone. You will then speak to one of our excellent customer service advisors who will take your order from you. If at this point you're still not completely sure if this is the right design for you, or if you have any other questions, you can count on receiving professional advice from us. We're here to help you make the right choice and make the process as easy as possible for you.
A few days after placing your order the curtains will be delivered straight to your door. Are you worried assembling curtains will be difficult? We understand. That's why Galaxy Design offers easy to install curtains with clear instructions. We will guide you step-by-step on how to assemble your curtains. We promise you can do it!
Here's one last thought. Why not give someone special in your life high quality, fresh, and new curtains for Christmas or their birthday? You'll be sure to give them a big surprise with our affordable custom-made drapes!
Head over to our website now to browse our amazing collection and order your design kit today.
For more design ideas like this view our youtube channel 
READ MORE
When you move into a new living space, there are many special touches that you will thoughtfully add to turn your house into a home. The same rule applies when you are looking to update the look of your dwelling space so that it is reflective of your personality and tastes. Choosing the right furniture, floor coverings and art pieces are often a part of this process, but one of the most eye-catching ways to complete your room design and tie everything together, is through custom drapery designs.
Curtains come in a wide array of styles, fabrics, and designs, and with Galaxy Design curtain decoration ideas, we can help you perfectly dress any size or shape of window in a few simple steps.
BROWSE OUR DESIGNS
Galaxy Designs is proud to offer window treatments that range from elegant to contemporary. You will find only the finest fabrics made of silks, polyester and other natural fabrics. We have patterns to complement any space and window style.
In addition, we offer many curtain styles, including swags, valances, panels, cornices and more. With Galaxy drapery designs, you can even choose motorized window treatment options. The combinations of designs are endless with Galaxy's elegant selections of fine fabrics and high end custom decorative hardware.
COMPLEMENTARY CONSULTATION
Once you have browsed our captivating Galaxy Design curtain decoration ideas, our professional and friendly design team will be pleased to join you for a complementary phone or video consultation. With your vision in mind, we will help you select the perfect DIY swag curtains or other drapery designs to complete your room decor.
Scroll to the bottom to see some of our amazing options!
Our specialists will guide you every step of the way from fabric, lining, and color selection to assisting you in choosing eye catching decorative hardware. With designs ranging from classic elegance to ornate hand painted hardware adorned with Swarovski crystals, no detail will be left ignored.
After your personalized consultation, our knowledgeable consultants will create a custom pallet of hues and fabric swatches for you to use in your home to make your final selections before ordering.
ORDER AND INSTALL
Once you have taken measurements and worked with your personal designer, we will assist you in placing your order. We offer complete custom window treatment packages, as well as a la carte items that include all hardware and simple step by step DIY installation instructions. If you are not comfortable with installing your curtains, we work with and can connect you to professional installers nationwide.
Galaxy Design is honored to partner with you in creating a living space that is beautifully polished and reflective of your unique style. We are thrilled to offer the personalized elegance and luxury of custom curated window treatments, made right here in the USA, to our customers nationwide. We don't want you to simply cover your windows, we want to help you dress them for success.
Like our tips? You can check out more here! https://youtu.be/NCGvebweiLM
READ MORE
Nobody might have thought that choosing a nice pair of home window furnishing should be such a difficulty! With roller blind, roman shades, Venetians, panels, shutters, the options for window furnishing for sliding doors are never-ending. The task of choosing affordable window furnishing can sometimes be daunting. Remember the fact that a nice-looking window will always stand on its own, but whenever a beautiful set of window furnishing is added to it, it surely adds better aesthetics to the area. Getting you space the right quality of window furnishing can sometimes be very much difficult and it is indeed a long and time taking procedure. It was even seen that many people have dropped the idea of buying window furnishing for sliding doors for a long time just because of their lack of idea. Whenever anybody plans to upgrade window furnishings for their house and add a wow factor to it, several factors have to be kept in mind especially that of styles, pelmets, lengths, fabrics, valences, pleats, etc. Much far from an afterthought, proper window furnishings helps in adding length to a room and gives it a nice touch while tying the entire thing together. In order to help you choose the right window furnishing for your home, here is a list of some of the best window furnishing for every house.
Let's check out some of the best window furnishing options for your home that can make your entire space look good.
Designer Curtains For Home– Roller Blinds: The roller blinds window furnishing is no doubted the most popular type of window furnishing that you can use on your home windows. They can be classified as simple and very affordable window furnishing. These custom window furnishings have a lot of options available from blackout, light filters, sunscreen, recess fit or face-mounted, homeowners can choose anything in between. Apart from that, you can even opt for textured, simple flat fabrics or even patterned type of roller blinds window furnishings.
Designer Curtains For Home– Roman Blinds: Roman blinds with pelmet are those that fold as the user draws or tilts them upwards. They are sophisticated, soft and an elegant option that is suitable for any type of interior styling. Remember roman blinds that make use of white fabric really looks elegant in most of the modern homes. However, textured white type of roman blinds window furnishing is best suited for Hampton type of styling and the warmer color tones look just great in a classic design house. These are some of the basic features available with roman blinds. However much similar to roller blinds window furnishing these curtains are also available in light filtering, blackout, and even sunscreen fabrics. Talking about maintenance, these window furnishings are needed to be dusted, cleaned, and vacuumed on a regular basis.
Designer Curtains For Home– Venetian Blinds: These window furnishings are available in a wide variety of materials and color options. They are even the best for any sorts of home interior styling. Aluminum suits Venetian blinds are a perfect offering for ultra-modern home styles, whereas classing timber Venetian blinds fits just perfect for tropical or botanical interior, and on the other hand Vision wood Venetian blinds are great for modern or coastal type of houses. In case you haven't heard of vision wood window furnishings, they are a much popular alternative to wood or timber at a very low cost. These window furnishings are mostly made of moisture-resistant materials making them great to be used on humid and wet areas of a house. They are both anti-static and anti-fungal in nature. The Venetian blinds window furnishings require regular dusting and cleaning in order to keep them in good condition. Venetian blinds can be the best window furnishing for sliding doors.
Designer Curtains For Home– Honeycomb Blinds: The honeycomb blinds window furnishings are great in case you opt for complete blackout curtains especially for the bedroom or your dining space. The Honeycomb blinds generally have two options. They can either be a face fit or a recess fit. Mostly these window furnishings are made from a material that that less prone to get fade and are resistant to water, providing them a really long lifespan. The pleated honeycomb blinds window furnishings help in providing exceptional insulation property thereby keeping the rooms warm in winter and cool in the summer.
Designer Curtains For Home– Panel Blinds: These are undoubtedly the best window furnishing for sliding, doors, bi-fold doors, and large windows. The panel blinds window furnishing is attached to a lightweight aluminum track and they mostly tend to slide behind one another when opened. Just like the other types of window furnishings, these panel blinds are also available in light filtering, blackout and sunscreen options. The buyers of panel blinds gets the ultimate privacy to reduce heat and glare while maintaining the view.
Designer Curtains For Home- Farmhouse Shutters: Farmhouse shutters window furnishings when added to any interior décor idea works just perfectly. They are great in helping the residents of the house to adjust their light access and even help in playing well with their rustic look. These shutters give changes to the overall look and feel of the area.
Designer Curtains For Home- Sheer White Curtains: In case your home is missing out on those big sized windows, sheer panels window furnishing can be used in order to get better light input. Sheer white curtains are a perfect addition to modern interior design. These curtains make the room feel airy and keep the residents from feeling to closed off. In most of the cases, they are translucent in nature and allows just the perfect amount of light to pass through.
We, at Galaxy Design, take pride in providing only the best products to our valued customers Our customers can enjoy guaranteed peace of mind as we always stand behind all our products. All our window furnishings and hardware come with a lifelong guarantee. It is our duty to guarantee that all the window treatments fit exactly to your house window and in case it doesn't we do accept returns and fix them for you at no extra cost. If you are in search of custom window furnishings for your beautiful space don't forget to visit our website at Galaxy Designs.
READ MORE
In case the view around your home is beautiful and your home windows have nothing to hide, all you need to do is to dress them in creative and elegant ways. No matter what your home styling is, window treatments are one of the first things that comes into notice, and they have the power to enhance your home styling and create an ambiance. Remember a sturdy house is very much intrinsic to our contentment and our comfort. Our houses are a long extension of our personality, and all of us love to take pride in how they actually appear. A home well put together surely helps us feel a lot better in our everyday lives. The overall aesthetics of our house is something that we really cannot ignore. So, here are some do's and don'ts that can surely help your window treatment uplift your home impression.
Do's
Hang Your Curtain Wide And High
Hanging your drapes and curtains at least twelve inches above your window frame or on the ceiling can surely make your home space look luxurious and big at the same time. You can even try out extending your pre-existing curtain rods at least four to six inches on each side.
Layer Window Treatment
All the types of designer windows at least sports two different window treatments. No matter if it is a wooden blind paired with Roman shades or if it is louvered shutters along with chic valence. This type of window treatment along with being functional, even boosts the overall styling of the space.
Try To Hang The Curtains All The Way To The Floor
A very common mistake done by almost all the novice home decorators are making a purchase of the curtains without measuring the height of the windows. In order to get a tailor-cut look, curtains should always puddle a bit or kiss the flooring. The same concept should even work with windowsill and café curtains.
Don'ts
Don't Just Stop At The Windowsill
Remember high waters weren't at all cool in the high schools nor they are in your living area. Try imagining your window dressing kissing the flood and hung wide and high. This idea can help in a total transformation of your space.
Don't Hang Your Curtains Right Above Your Window
Curtains that are hung just above the window frame not only allows less amount of light to pass but also stunt the window. This can give the entire space a crowded type of look. Remember whenever you are planning to put in a curtain to your space, they shouldn't fall more than three inches on each and every side.
Don't Just Assume That One Size Fits All
Remember to treat every window of your house individually. Not all the house windows need to have the same size of can pull the same styling. Always try to trust your instinct while styling tricky and small spots. It is important to remember that curtains and drapes are meant to reduce noise, temperature, visibility, and treat the amount of light you want to pass.
Home window treatment is very much necessary to uplift your overall home impression. If you want to schedule a free consultation from Galaxy Design, get in touch with us by calling 866-215-3173.
READ MORE
We can never call a window fully dressed until and unless it dressed with some window treatments. From customized roman shades to an ultra-feminine taffeta curtain, home window treatments perfectly deliver the fashion for each space. Thanks to the availability of different color options, decorative trims, and wallpapers, ideas for customizing home window treatments are endless. Home window treatment can do a lot more stuff than just adding to the style quotient. Just beyond adding privacy and shades, drapes and curtains can give a serious dramatic change to the overall mood of a room. For example, a beautiful piece of lavish curtains with rich golden trims lends a theatrical mood. Whereas a lightweight open sheer curtain lightens the overall ambiance of the room with a breezy sort of informality. Apart from all these, window treatments also help in solving a wide range of architectural challenges. Here is a list of some of the best home window treatments that are known to give the best results.

Sheer White Curtains: In case your beautiful home is lacking on those big sized windows, you can choose sheer panels in order to get maximum light. Sheer white curtains can help in keeping the room feeling from being too closed off. These are mostly translucent in nature, and allows just the right amount of light to pass.
Colorful Trim: If you don't want to overdo your home windows with too many colors, but want to add some liveliness to it, choosing draperies with a colorful trim and a neutral base can do the charm. You can even choose some sort of reversible fabric adding some neutral hue to it. Choosing combinations like this can make your space look more lovely and can even add some spirit of joy to it.
Curtains Beyond The Windows: If you want a personal style quotient to be added to your home windows, then this can be the best idea. Instead of just hanging the curtains just above the window panels, you can try hanging the long drapes just in front of the window seat nook. This can beautifully create a cozy little oasis to your space.
Roman Shades: If your house windows already have blinds, you can make it look more refined and personalized with the help of Roman shades. Roman shades are known to add colors to your windows and can help in providing the utmost privacy to the room occupants.
Farmhouse Shutters: The farmhouse shutter window panels work perfectly by allowing the room occupants to adjust their light access and even play with the rustic appearance.
Short Curtains: Short curtains are generally hanged at the midpoint of a window in order to get a visually intriguing look. They help to provide privacy and allow only a limited source of light to breakthrough.
Tassel Detail Curtains: This curtain-type loves to play with pattern, color, and texture. The tassel fringed draperies are a fun touch that surely plays off those classic prints and even changes the aesthetics of the space.
Contrasting Prints: In case you want a fun whimsical living room, getting those contrasting gingham print curtains with floral valences can really add wonders to the space.
Draperies and curtains have the power to either make or break the appearance of your space. Therefore, choosing the right set of curtains, valences, panels and draperies are important. You can see more of our drapery designs and customize them accordingly, by logging on our website Galaxy Designs.
READ MORE