An expertly-embellished curtain rod can boost the "wow" factor of your window treatments, and help attain the luxurious look for your space. If you're unable to decide on the right curtain rods for your window treatments, you're not alone. Several people cannot choose the right one that complements your window treatments as well as your interior décor.
We've covered all the details you should know before you decide on a particular curtain rod. From the varieties of curtain rods available to purchasing the best-suited ones, this precise guide covers everything that you are looking for.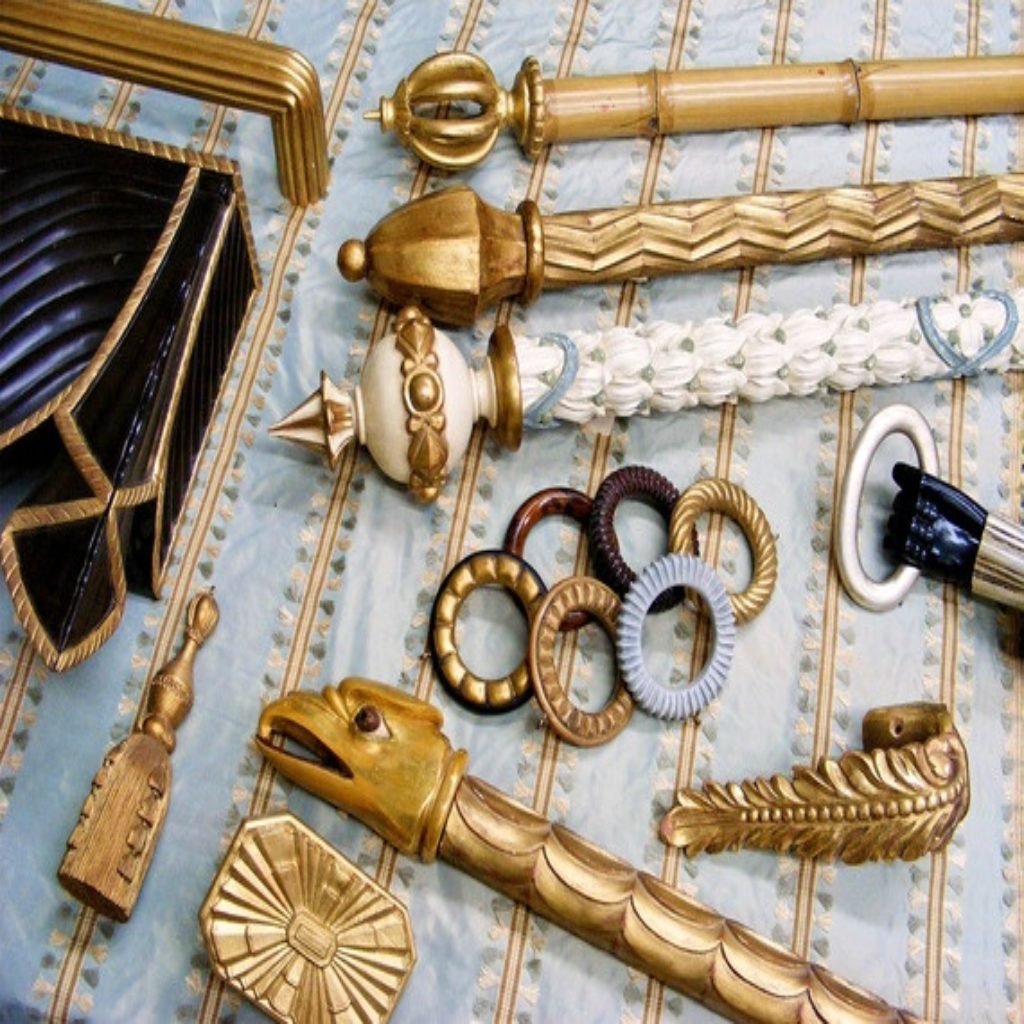 Find out How Much Weight You Want It to Support:
First of all, selecting a curtain rod should rely on the curtain fabric—heavier curtains require robust rods to stay in place for a longer time. If you are planning to install heavier curtains for your window treatments, you should consider purchasing the rods that are crafted to withstand heavy fabric.
Keep Your Room Requirements in Mind:
Some specific rooms certainly require a specific type of curtains and rods. For example, your kitchen and bathroom need custom rods to meet the specific window requirements. They have smaller windows and you need to install valances paired with adjustable rods.
Decide on the Color and Finish:
Now it comes to finding the right color and finish of your curtain rods that add dimension to your windows. If you are planning to install linen curtains, then pair them with a sleek and cast-iron curtain rod to enhance your window treatment.
On the other hand, choosing metallic finish curtain rods can help you add depth to the aesthetic attraction of your room. And wooden curtain rods are frequently recommended to pair with cotton curtains to create a relaxing space.
Take Care of the Length of Your Curtain Rods:
Don't ignore the significance of the length of your curtain rods. As a general rule of thumb, a curtain rod should be 4-6 inches more than the length of your window frame. An extended rod creates a grand look, giving more space to open your window.
Select the Best-Suited Curtain Rods That Suit Your Style and Home Décor:
A carefully-selected curtain rod can add so many elegant touches to your home's unique interior décor. To meet your requirements, manufacturers offer a large selection of decorative rods in different shapes and designs.
Below are some popular types of decorative curtain rods that you can choose for your custom window treatments:
Single Rods: A single rod is one of the most common categories of curtain rod that comes with a single rod and capped with a decorative finial. Such rods are installed to hang single curtains.
Double Rods: As the name suggests, double rods are crafted with two separate parallel rods, along with some other decorative pieces. It is preferably ideal for rooms with large window frames. If you want to install blackout curtains in your living room, using double rods will add to its basic functionality.
Traverse Rods: Traverse rods feature clips to hold the curtains. These rods are generally recommended for wide window frames, or for the rooms that need divider curtains.
Wrapped Rods: Wrapped rods should ideally be used for blackout curtains. If you want to darken a room, go for the wrapped rods that can help you use your curtains to block the sunlight coming into your room.
How to Install Curtain Rods?
Installing a curtain rod may look like a tricky and intimidating task, but Galaxy Design offers some important tips to help you make it easy and flawless exercise for you. Do you have a large window and need privacy/sun protection? Galaxy Designs recommends installing a heavy-duty deco rod, which everything you need.
Watch this video to learn the tips for installing heavy-duty deco rods in your room:
READ MORE
Nobody might have thought that choosing a nice pair of home window furnishing should be such a difficulty! With roller blind, roman shades, Venetians, panels, shutters, the options for window furnishing for sliding doors are never-ending. The task of choosing affordable window furnishing can sometimes be daunting. Remember the fact that a nice-looking window will always stand on its own, but whenever a beautiful set of window furnishing is added to it, it surely adds better aesthetics to the area. Getting you space the right quality of window furnishing can sometimes be very much difficult and it is indeed a long and time taking procedure. It was even seen that many people have dropped the idea of buying window furnishing for sliding doors for a long time just because of their lack of idea. Whenever anybody plans to upgrade window furnishings for their house and add a wow factor to it, several factors have to be kept in mind especially that of styles, pelmets, lengths, fabrics, valences, pleats, etc. Much far from an afterthought, proper window furnishings helps in adding length to a room and gives it a nice touch while tying the entire thing together. In order to help you choose the right window furnishing for your home, here is a list of some of the best window furnishing for every house.
Let's check out some of the best window furnishing options for your home that can make your entire space look good.
Designer Curtains For Home– Roller Blinds: The roller blinds window furnishing is no doubted the most popular type of window furnishing that you can use on your home windows. They can be classified as simple and very affordable window furnishing. These custom window furnishings have a lot of options available from blackout, light filters, sunscreen, recess fit or face-mounted, homeowners can choose anything in between. Apart from that, you can even opt for textured, simple flat fabrics or even patterned type of roller blinds window furnishings.
Designer Curtains For Home– Roman Blinds: Roman blinds with pelmet are those that fold as the user draws or tilts them upwards. They are sophisticated, soft and an elegant option that is suitable for any type of interior styling. Remember roman blinds that make use of white fabric really looks elegant in most of the modern homes. However, textured white type of roman blinds window furnishing is best suited for Hampton type of styling and the warmer color tones look just great in a classic design house. These are some of the basic features available with roman blinds. However much similar to roller blinds window furnishing these curtains are also available in light filtering, blackout, and even sunscreen fabrics. Talking about maintenance, these window furnishings are needed to be dusted, cleaned, and vacuumed on a regular basis.
Designer Curtains For Home– Venetian Blinds: These window furnishings are available in a wide variety of materials and color options. They are even the best for any sorts of home interior styling. Aluminum suits Venetian blinds are a perfect offering for ultra-modern home styles, whereas classing timber Venetian blinds fits just perfect for tropical or botanical interior, and on the other hand Vision wood Venetian blinds are great for modern or coastal type of houses. In case you haven't heard of vision wood window furnishings, they are a much popular alternative to wood or timber at a very low cost. These window furnishings are mostly made of moisture-resistant materials making them great to be used on humid and wet areas of a house. They are both anti-static and anti-fungal in nature. The Venetian blinds window furnishings require regular dusting and cleaning in order to keep them in good condition. Venetian blinds can be the best window furnishing for sliding doors.
Designer Curtains For Home– Honeycomb Blinds: The honeycomb blinds window furnishings are great in case you opt for complete blackout curtains especially for the bedroom or your dining space. The Honeycomb blinds generally have two options. They can either be a face fit or a recess fit. Mostly these window furnishings are made from a material that that less prone to get fade and are resistant to water, providing them a really long lifespan. The pleated honeycomb blinds window furnishings help in providing exceptional insulation property thereby keeping the rooms warm in winter and cool in the summer.
Designer Curtains For Home– Panel Blinds: These are undoubtedly the best window furnishing for sliding, doors, bi-fold doors, and large windows. The panel blinds window furnishing is attached to a lightweight aluminum track and they mostly tend to slide behind one another when opened. Just like the other types of window furnishings, these panel blinds are also available in light filtering, blackout and sunscreen options. The buyers of panel blinds gets the ultimate privacy to reduce heat and glare while maintaining the view.
Designer Curtains For Home- Farmhouse Shutters: Farmhouse shutters window furnishings when added to any interior décor idea works just perfectly. They are great in helping the residents of the house to adjust their light access and even help in playing well with their rustic look. These shutters give changes to the overall look and feel of the area.
Designer Curtains For Home- Sheer White Curtains: In case your home is missing out on those big sized windows, sheer panels window furnishing can be used in order to get better light input. Sheer white curtains are a perfect addition to modern interior design. These curtains make the room feel airy and keep the residents from feeling to closed off. In most of the cases, they are translucent in nature and allows just the perfect amount of light to pass through.
We, at Galaxy Design, take pride in providing only the best products to our valued customers Our customers can enjoy guaranteed peace of mind as we always stand behind all our products. All our window furnishings and hardware come with a lifelong guarantee. It is our duty to guarantee that all the window treatments fit exactly to your house window and in case it doesn't we do accept returns and fix them for you at no extra cost. If you are in search of custom window furnishings for your beautiful space don't forget to visit our website at Galaxy Designs.
READ MORE
How to charge for custom curtains? Curtains are one of the most important pieces of decoration that can single-handedly change the look of a room. Although you will find a wide variety of readymade curtains, people mostly go for custom curtains to do justice to your room. The reason is that there is no standard dimension for windows, and people tend to install windows that fulfill their needs and requirements. The room can be small or big, and the dimension of windows, therefore, varies a lot.
This is where custom curtain manufacturers come into the game. Custom curtains are always in demand, and people have made quite a good living while making and selling them. If you are planning to start your own curtain business and are not sure how to charge for custom curtains, then this article is just for you.
How to Charge for Custom Curtains?
How to charge for custom curtains? Well, the answer is straight forward; you need to keep everything into consideration that will cost you in the making of a custom curtain and then set a price that will cover all those expenses and give you a profit as well. The most prominent expense while making a custom curtain is the type of fabric being used. The better the fabric, the more the cost.
In order to set a final selling price, you need to assess the amount of work involved and then add in your minimum wage for your labor and time. If we talk about the US, the minimum wage is almost $11 in most of the states, but we need to take in to account how much tailors and seamstress charge on an average, which is somewhere around $15 per hour.
It would be best if you also decided whether you are going to charge per hour or per panel. No matter what you decide, the type of fabric is still going to be a key factor here. If you are using a tough fabric, you should charge more for it, regardless of whether you are charging per hour or per panel. If your labor is working on hourly wages, then you should charge about $10-15/ hour. However, if you are going to charge per panel, your base price should be around $20 per panel.
How to Charge for Custom Curtains (Handmade)?
By now, you have some understanding of how to charge for custom curtains. Now let's see what you need to consider while pricing handmade curtains. Handmade custom curtains cost more than the factory-made curtains. The reason is that handmade curtains are made by hand by an expert tailor and a lot of time, energy, hours of work, and, most importantly, the heart is put into the making. Plus, a lot of accessories are used in the making of homemade curtains as well. All these factors play their role while you come up with a final selling price.
If we talk about the labor cost for handmade curtains, that ranges from roughly between $15/ hour to $20/ panel and up. The cost of labor for manufacturing handmade curtains will also depend on the type of fabric to be used. The prices of fabrics also vary significantly and cost you between $7 to $1,500 per panel. Some other factors that play their role in the final selling price are: who is going to sew? Is she an experienced seamstress (obviously will charge more) or is a newcomer? And how much extra effort she will have to put in to complete the project.
By now, you almost know how to charge for custom curtains that are handmade. But wait, we haven't talked about the accessories that you or the customer would want to include in the project. Following is a list of possible accessories that will help you get an idea and come up with a final price.
Curtain rod- $4 to $190.
Curtain rings, etc., – $3 to $20 for common rings, ten in a set. Custom rings, up to $500 for 10.
Valances – For common fabrics between $4 and $40; for more fancy ones up to $450.
Cornice- between $100 and $500.
Holdbacks or tie backs- between $5 and $60 per pair.
Finials- depending on their construction material, etc., between $6 and $70/pair.
Want to Buy Custom Curtains Instead?

If you are interested in buying premium quality and durable curtains at an unbeatable price, then Galaxy Design is where you need to shop. They have a wide variety of fabrics, and you will definitely find something that you are looking for. With hundreds of satisfied customers, Galaxy Design is a house of satisfaction. They know how much your money values to you, so they provide the best services at an affordable price. To shop, just visit their website and browse through their massive collection of curtains. You can also check out their YouTube Channel to see what they are all about.
Wrap Up
In this article, we told you how to charge for custom curtains. We discussed everything that you need to consider while coming up with a final selling price. In the end, we will advise you to keep your rate competitive but do not set them too low that you end up earning nothing. If you are new in the business, completing a few projects will give you a better sense of estimation. You will be able to tell how much time a project would require and whether you need to charge a higher rate for that project due to additional handwork. With experience, you will learn better about how to charge for custom curtains.
READ MORE
Are you planning on updating your home's interior design? If yes, then you must have made your mind to bring home new curtains for your windows. Curtains are a mandatory accessory for your home as they play a pivotal role in its decoration. This is why interior designers pay so much importance to the selection of curtains; they put in a lot of time and go through dozens of designs and color schemes before they settle on a decision. Since you have made up your mind, you need to know how much to pay for custom curtains? Knowing how much to pay will make your decision easier, and you will be able to buy high-quality custom curtains without getting ripped off.
Why Buy Custom Curtains?
Why people give more preference to custom curtains? Why are custom curtains more expensive? How much to pay for custom curtains? These are some of the questions that might be going on in your mind. Let's find their answers. The following are the three main reasons anyone would buy custom curtains instead of buying curtains off the shelf.
The Size Issue: Most of the time, people have odd sized windows installed in their homes, which is why buying a standard readymade curtain is not an option for them. The windows installed at homes do not have any standard size; some have big windows, while others have small, which is the main reason why most people prefer to buy custom curtains so that they can have perfect fitting for their apex dormer or sash windows.
Quality: Although you might find the quality of readymade curtains to be very good these days, nothing beats the quality offered by custom-made curtains. Whether it is the fabric or the finish, the final product is always better than mass-produced in a factory. A custom-made curtain is especially made for you with all the care and attention from the seamstress. Once a person buys a custom-made curtain, he cannot make up his mind to purchase a readymade one.
Choice: There is an exceptional range of options when it comes to custom-made curtains. From the fabric to the trimming, each and every step allows you to go totally custom and come up with a unique final product that is one of a kind.
What to Expect from Custom Made Curtains?
Budget
The custom curtains are going to cost you more than the ready-made ones. The reason is that custom curtains are made specifically on custom orders by keeping particular guidelines, exact measurements, and customizations in mind. The final product will be of high quality and exactly like you desired. Another prominent reason why custom curtains are expensive is the fact that they are not made in bulk.
Look and Style
If you have bought a new house or just renovating your old one, a new curtain should be on your agenda, and if you want to achieve a particular look or a style, then custom curtains are the perfect option. Every room has a unique touch of class, and you need a unique style for your curtains to complement your room's look. Custom curtains give you a wide range of fabric colors and texture to choose from, and you can always add as many customizations as you want with its configuration.
Your Windows & Doors
Every room will have different orientations and sizes of windows and doors, and this is where custom curtains are a far better solution than readymade curtains. You can design every curtain according to your desired measurements and customizations. In this way, you will achieve the perfect fitting of curtains for every room.
Quality
Although you will have to pay more money for custom curtains, it is totally worth spending the extra few dollars on getting a premium quality product that is according to your desire and is a perfect fit for your home. We will discuss how much to pay for custom curtains in the next section, but remember, quality should be a top priority, and if you are spending money to achieve a perfect final product, it is worth it. The quality of the final product not only depends on the quality of the fabric but also on the craftsman involved in making your custom curtains, and competent craftsmen usually charge more.
How Much to Pay for Custom Curtains?
How much to pay for custom curtains? Well, the answer to this question is not so straight forward. Different factors affect the final pricing of custom curtains. If you are getting your curtains custom made by a designer, they are going to charge you much more than a yard store. The average price for custom curtains is somewhere around $250-$1500/panel. If you want to add curtain extras like rings, clips, and valances, they will cost you anywhere between $5 to $600. Holdbacks and finials will cost you an additional $7-$80. And if you are interested in adding fashionable cornice, it will add up another $150 to $600 in the total price.
If you want to get high quality and durable custom curtains, then Galaxy Design is one of the best online sellers that you will find on the Internet. They have a vast range of fabric to choose from and an impressive portfolio to make up your mind. They have been offering their services for the past 40 experience, and with their expertise, you will get a final product that is according to your needs and desire. To order custom curtains, visit their website and transform the look of your home. You can also check out their YouTube Channel if you want to get ideas for custom curtains.
Wrap Up
If you are looking to decorate your house, then custom curtains will be a perfect addition. Not only will they be of high quality, but you will also be able to get them stitched in any design you want. With a vast range of fabric to choose from, you will definitely find the one you like. But how much to pay for custom curtains? That solely depends on how much you are willing to put in. The more you spend the more the quality of the final product will be achieved. In this article, we have told you the average price of everything used in the manufacturing of a custom curtain. Now you will be able to decide for yourself how much to pay for custom curtains without getting ripped off.
READ MORE
How to make pinch pleat drapes is a very common question that comes up to our mind, each and every time we plan to buy pinch curtains or pleated sheer curtains for our window treatment. Drapes or curtains, in general, always make a style statement by giving a final touch up to the room's overall decoration. While dealing with the question of how to make pinch pleat drapes, they are probably the final idea that most people end up thinking and are mostly an afterthought in the home décor world. Getting oneself a perfect set of extra-wide pinch pleat drapes can help in creating a perfect finished space making the living room look just more complete.
While searching for the answer of how to make pinch pleat drapes, few things must be taken into notice. Pinch pleat curtains or pleated drapes does add a sense of plushness to the window treatment. Pleated curtain panels nevertheless maintain a well-managed structured fullness from the bottom. While in the process of how to make pinch pleat drapes, few steps are to be followed to make the pinch curtains look much more consistent and charming.
Here is a list of top four types of pinch pleated curtains with hooks that must be taken into consideration while in the process of knowing how to make pinch pleat drapes.
How To Make Pinch Pleat Drapes- Grommet Pleat Drapery: This is a very common kind of drapery that is often seen in most of the houses. These draperies have metal grommets installed in them through which a curtain rod can pass through.
How To Make Pinch Pleat Drapes- Flat Pleated Drapery: Flat pleated drapery are also known as flat panel curtains. These are mostly old school curtains that hang with the help of clip rings.
How To Make Pinch Pleat Drapes- Rod Pocket Drapery: As the name suggests, pockets are sewn at the top of this drapery such that the cloth gathers together when the drape is pushed to aside. Though one of the best-looking pleated drapery, the only negative side of them is that opening or closing them is a bit of a task. They only open as much as the top gathering allows them to and also, they tend to move and not stay at a particular place.
How To Make Pinch Pleat Drapes- French Pleated Drapery: This is a very common type of curtain pleat that can be found almost everywhere, forming at least two or three folds from the top. When accumulated together, these draperies form a gap of about three to five inches from the curtain top.
Hardware Tools Needed While In The Process Of How To Make Pinch Pleat Drapes
Sewing Machine.
Scissors.
Pins.
Measuring Tape.
Curtain clips, rings, and rods.
Panels depending on the size of the window.
Hooks.
Pleater tapes and their inserts.
How To Make Pinch Pleat Drapes: Measuring The Length of the Drapes and Cutting the Grommets
The first and foremost thing that comes to our mind while thinking of how to make pinch pleat drapes is the measurement factor, which is commonly mistaken by most of the people. Though it is true that we should well know the size of our windows, the height in which the pinch pleat curtains should be hanged must be much higher than the window top. Hanging curtains close to the ceiling can make the room, feel airier, which is a must in case of small spaces. Try buying draperies that are slightly longer than what is required. Remember pleated curtains looks best when the grommets are slightly cut and when the pinch pleat effect is created on the top, side edges and the bottom. Generally, the edge of the drapes is sewed of about ½ inch of the hem.
How To Make Pinch Pleat Drapes: Placing The Pin Of The Pleater tape
Try placing the window panel on a flat surface and put the pleater tape accordingly. Do not forget to double-check the length of the panel by holding them straight and if needed, give them an adjust. Remember that fixing the drape length is much easier to fix before the process of sewing.
How to Make Double Pinch Pleat Curtains: Sewing The Tape To The Pleater Panel
Extra precautions must be taken while sewing the pinch pleat curtains. Remember not to sew the blank places or the inserts where the hooks are to be placed.
How To Make Pinch Pleat Drapes: Inserting the Curtain Hooks
Curtain hooks can be of various shapes and sizes. Try using a four-prong hook. Remember, the more the number of prongs, the tighter the pleat looks. This helps in gathering the curtain together while creating a beautiful pleat and drape.
How To Make Pinch Pleat Drapes: Hanging and Pleating the Curtain Panels
While in the process of how to make pinch pleat drapes, remember to fold the pleats on the inside part to make it look clean and try pointing it to the outward direction. Make sure to tack the pleats by using a needle and a white colored thread. If the quality of the fabric is thick, one can always make use of a thimble. Once done with the process of tacking and pleating, do not forget to clip the curtain rings of the pleats at each end of the folded edge. It is always recommended to iron and press the panel to provide a clean look. The curtain must skim down to the edge in order to provide a gorgeous look creating a beautiful textured appearance.
Notes:
Personal spaces such as bedrooms or the living rooms look best when treated with a layered look. Giving the back curtains a fullness compared to the other layers will always add to the charm.
Remember use of valances is also a good option than opting for draperies for the bay area. The pinch pleat curtains installed for the bay area should not look too full. Otherwise, they can be the reason for providing a clumsy appearance.
Pinch pleat sheer curtains are a lot more than what we generally think, but following the above-mentioned D-I-Y tips can surely bring out the best results.
READ MORE
How to measure drapes is a common question that comes to our mind while we are preparing to get the right set of curtains for our house. A proper set of curtains does add charm to a room and is by far a lot more than just window dressing.
Measuring curtains in the right way can add up personality, provides privacy, and can help in filtering the sunlight. But the fact is even the most stylish looking draperies cannot add charm to the room if the installer doesn't know how to measure windows for curtains. Knowing the answer to the question of how to measure drapes, can be a cherry on the cake and at the same time can make a dull looking room into a beautiful one in just a blink of an eye.
Before you get to buy a perfect set of draperies for your beautiful house, it is an absolute necessity to get the right curtain size and window measurements. Down below in this project guide we have tried to give you an explanation and some D-I-Y steps to the question of how do you measure curtains in a perfect way right from measuring the width of the panel to the selection of perfect curtain hardware.
How To Measure Drapes: Determining The Exact Way To Mount The Drapes
While you are in the process of how to measure drapes, it is a must requisite to decide on the first place if you want to mount it inside or outside of the window panel. Both of these mounting ideas do add a completely new and different aesthetic to your space.
How To Measure Drapes: Inside Mounting Of The Drapes.
Though not that common in the US, still this mounting technique does provide a different and stylish look. Inside mount means the use of the curtain rod the window panel providing a streamline and crystal-clear appearance along with a minimalist look.
How To Measure Drapes: Outside Mounting Of The Drapes.
This is the most common mounting technique to answer your question of how to measure curtain size. Here the curtain rod is placed towards the outer part of the window frame and the main benefit of this type is it does provide a bigger and more luxurious look to your space.
How To Measure Drapes: Finding The Perfect Curtain Rod And Its Length
The question of how do I measure for curtains cannot be left aside without choosing the perfect curtain rod or its length. In most cases, curtain rods are almost about three to six inches more than the window frame. However, as because these rods can be installed in different ways, knowing where to install them correctly does affect the exact length of the rod. The curtain rod mounts can be of various types such as below trim curtain mount, inside trim curtain mount and above trim curtain mount.
How To Measure Drapes: Choosing The Length of the Draperies
The exact thing to consider next while in the process of how to measure drapes is the style of the interior and the perfect length of the curtains. Altogether there are three different styles to hang the draperies depending the look you are looking for
How To Measure Drapes Till The Floor: In this style of curtain décor, the length of the curtain should be at least 1cm above the floor.
How To Measure Drapes Above The Sill: In this style, your set of draperies usually sits above the sill by around 1cm.
How To Measure Drapes Below The Sill: Here the curtain sits roughly about 15cm down the sill.
How To Measure Drapes: Getting The Right Length
The most common way of measuring curtains is width by length, where the length of the curtain is considered from the curtain rod to the bottom of the window sill or the window panel. Getting to choose the perfect curtain length for your space completely depends on the look you want and the way you desire to hang your curtains.
While you are in the process of how to measure drape length you need to place the measuring tape just on the top of the frame to get the exact measurement. If you want your curtain to be placed a bit higher, measure an additional length of 20 inches to get an elongated look.
How To Measure Drapes: Getting The Exact Width
In order to give a perfect appearance to your personal space, the width of your drapery should be almost around 1 ½ to 4 times the width of your window panel. Although this completely depends on your own wish, and the ultimate design you want to achieve by the end of your curtain project. Remember, while you are in the process of how to measure drapes, fuller drapes tend to give a richer appearance to your window panes whereas draperies with a bit shorter width provide a more elegant and custom-tailored look. Remember while buying draperies, window panels come as a separate item, so you should always recheck if you need to buy it as a partner or if it comes as a pair. If you buy the window panel separately try to double the listed width of the drapery panel. For example, you can always use a piece of blanket or tablecloth for reference.
Notes:
Windows of the living room or bedroom can always be treated with a layered look. Try giving the back curtain a fullness than the other layers. The second layer of the curtain usually presents a frame to the window.
Valence is a far better choice than draperies for your bay windows, though you can always install a curtain rod for the window to hang curtains. Remember curtains for your bay window need not look too full, otherwise, they can provide a clumsy appearance to your living area.
Answering the question of how to measure draperies is far more than what we generally understand, but the above-guided tips can really help in bringing charm to your window to a whole new level.
READ MORE
We all must agree on the fact that windows can always be a deal-breaker. It can either make or break a space. Often the importance of window treatment is overlooked. Drapes and curtains can either be functional or purely decorative or it might strike a balance between these two completely depending on your preference. Drapes and curtains can be of a variety of types such as flowing drapes, roman shades, classic curtains or a laidback shutter. Playing with the ideas of draperies can surely inspire you to have a better view of your home. How to make drapes of different custom-built shapes and sizes is the most asked question while clients are in search of homemade curtain ideas.
While you are in the search of the question of how to make drapes there are few things which you should remember. The fabric used in linen curtains is hard and wider than most other types of craft cloth, so it is always recommended to use two tables put in one place or two big sheets of plywood or you can even use the floor to spread your drapery fabric on. In order to tighten the fabric, you can always use your regular household iron as that can work in the best possible way.
Here are few steps which might help you in your search of how to make drapes.
How To Make Drapes: Calculating the yardage required
These yardage calculations are to be made on just a single piece of drapery panel and are generally cut out in such a way that it is one width more than the width of the fabric. It is recommended to hang the panels a few more inches above the window trim so that the finished length of each panel can be on the higher side. While you are in the process to make your drapes, the length required for the drapery panel can vary for you but this is a must-use formula to find and cut the exact length of the lining fabric and the drapery.
While in the process of how to make a curtain, once you have finished the calculation part of taking the panel lengths, it is always recommended to also take the height of the rod and the drape amount allowed by the drapery ring while putting on the curtains.
How To Make Drapes: Cutting The Right Amount Of Fabric
In the process of how to make drapes the cloth or the fabric needs to be unrolled and spread out equally. In order to get a correct measurement, make sure that the fabric is square in shape and no noticeable wrinkles are formed. Also, while you are ongoing in the process of how to make drapes make sure to remove the selvage on both sides of the fabric if needed. Now your cloth is ready to be given a shape by cutting down the desired length. You can always use a yardstick to smoothen the fabric on both sides and it might seem the best way to make your own curtains.
How To Make Drapes: Time To Hem The Curtain Panels
In the process of how to make drapes hemming the panels is a very important step that needs to be followed. Turning the piece of drapery cloth and then by pressing folding and pinning the hem of drapery panel in a proper manner is a must requisite. You must always pay great attention to the right pattern running throughout your drapery fabric in order to determine the bottom of the panel.
While you are undergoing through the process of how to make drapes remember a professionally made drapery has a hem of almost 4 to 5 inches. So, in order to get that folding up by 9 inches and then by folding half of that under and pressing and pinning them in one place might help.
How To Make Drapes: Hem And Cut The Lining Fabric
While you are in the process of how to make drapes and curtains, make sure if your short curtain fabric has selvage on both sides. These selvages are woven are much more tightened that the rest of the cloth and it ought to be cut off in order to get the best and accurate measurement for cutting the panel. You shouldn't forget that just after you remove the selvage, you should always smoothen and tighten the wrinkles and square the piece of cloth properly before you move to your next step of cutting or measuring.
You must always remember that the lining panel has to be 1 to 2 inches shorter when it is to be compared with the finished product that is indicated in the above steps of the yardage calculator. While you are looking for how to make drapes remember to use a cotton curtain lining cloth and make sure it is white in color weighing around 4.5oz. It is also to be noted that only the right side of the drapery fabric has more shine than the other side.
How To Make Drapes: Hanging and Pleating the Curtain Panels
While you are in the middle of the process of how to make drapes remember to fold the pleats inside to provide a neat look and try to point it in the outward direction. Try to tack the pleats with the help of a white thread and a needle. You can also use a thimble if the quality of the fabric is thicker. Once you are done with the process of pleating and tacking, you can now clip the rings in the pleats of each folded edge. It is recommended to press the panels if necessary. Remember that your beautiful piece of drapery should skim down below to provide a better look.
You can always consider combining all these trending styles in your own creative way. In order to make your own curtains and if you are in need of curtain hardware of drapery fabric you can always find us by searching curtains near me or curtains online and we assure you to provide the best quality products along with hassle-free and easy returns.
READ MORE
In this article, we are going to mention some guidelines for choosing the best drapes company. However, before doing that, we will throw some light on why it is important to use drapes at present.
Although everybody is entitled to privacy, it might prove to be difficult for achieving it in the long run. Window drapes can be a fantastic solution for providing you with the much-needed privacy within your residence.
Why go for window blinds?
You might be somebody who always wants to have something different in each and every aspect of your life. The time is right for you now to act differently and make use of window drapes. Many people opt for curtains, but you can always use drapes along with curtains. This can make a fantastic combination when used together and will be ideal for folks who like to have curtains and drapes but are finding it difficult to choose which one to go for.
Choosing the perfect drapes is always a sensible idea given that they will provide you with a wide array of colors with various color schemes. You will come across quite a few drape companies on the market at present, and therefore, choosing the best drapes company might prove to be a tough task for you. Before individuals might have faced issues in procuring one matching their color scheme or one which will be able to fit the windows. Those days are now over since it will be possible for you to place your order anytime anywhere. Moreover, in case you are not able to find drapes of the proper color or size, you can get one custom-made for you.
Selecting the best drapes company
In case you are planning to purchase new drapes for your residence, it is imperative for you to make a sound decision while choosing the best drapes company. As a matter of fact, there are lots of drapery companies nearby your location, and therefore, it is natural for you to become confused. This article will provide you with proper tips on choosing the best drapes company. It is essential to verify whether the company has got the following attributes which we have mentioned below.
Different types of choices:
The right company for drapes must be able to provide you with a range of attractive designs of window drapes when it comes to the color, style, fabric, and materials from which it has been made. Always go for better curtains and take care that these are manufactured from the best fabric for curtains as well.
Years of experience:
While choosing the best drapes company it will be a good idea to go for one that has been in the business for quite some time. Being in the industry for many years will allow the best drapery companies to find the perfect solutions when it comes to light, privacy, and ventilation issues.
The right company must be familiar with the products:
While choosing the best drapes company make sure that the company selected by you is able to understand the products thoroughly. They must be capable of communicating the different benefits of every single product with the customers. Apart from providing you with the info on how to use these products, the company must also let you know how to take proper care of the products as well. In this way, the users will come to know that the company happens to be a reliable business enterprise which will offer all the required info to the customers as and when needed.
Locally made products:
There are several reasons why you ought to buy locally made products. Purchasing from a local manufacturer will allow you to assist the environment by minimizing carbon emissions used for transporting items overseas. Apart from this, choosing the best drapes company from your locality will imply that you are offering job opportunities for the neighbors.
The right company must offer satisfactory customer service:
While buying the drapes the users will always want to receive outstanding customer service. The drapes company ought to depict that it will be able to help the clients in choosing the right curtains that are durable as well as of top quality.
Selecting the best drapes company that is customer-focused:
The drapes companies that are focused on the customers' interests will go on helping them even after selling the items. This will help the companies to prosper in the long run. Therefore, while choosing the best drapes company always make sure that it is customer-focused.
A friendly staff:
While choosing the best drapes company, always go for one whose staff is friendly and amicable with the customers out there. They must make every effort for making the clients satisfied in every way while selecting curtains from their shop.
Lots of customer reviews:
While choosing the best drapes company to ensure that it has got lots of positive reviews from the previous users. Simply go online and look at the reviews which will give you a clear idea on the performance of the company over the years.
The price ought to be reasonable:
It is imperative for the proper drapes company to keep the prices of all the items consistent. In this way, it will be possible for people to purchase those products without any difficulty at all.
Perform the installations:
You would not like to take the help of a middleman or contractor. While choosing curtains, go for a company that is going to perform the installation for you.
Do they provide warranties?
While choosing the best drapes company, go for one which offers a comprehensive warranty on the products. This will allow you to purchase the drapes with no risk at all.
Conclusion:
When you choose drapes, you might find it difficult to choose the perfect company given that there are so many of them out there right now. However, the above-mentioned guidelines should assist you in choosing the best drapes company in your locality without any issues whatsoever. So, feel free to come in touch with the best drapes company out there and enhance the attraction of your residence in the long run.
READ MORE
Nothing is more comfortable than sitting within your beautiful residence and enjoying the fantastic view with warm sunshine shining through. The windows are definitely amongst the most effective ways to bring in the outdoors inside your room and they also assist you in connecting with the environment. Windows happen to be the eyes of our residences and they can become more stylish and more beautiful by choosing the right color window treatments. Every single time you get inside a room, you'd be noticing the dominant colors at first and also how much light is entering the room. Brighten up the appearance of your house by choosing the right color window treatments – these are going to include tastefully selected curtains, drapes, shades, as well as blinds.
It can be a challenge to choose a color for window treatments. One of the most significant aspects to take into consideration would be the color of the window curtains. Color is likewise a fantastic place to begin shortening your search since it compels you to think of other different types of home décor factors.
Perfect window treatments for modern houses
What kind of right color for your curtain is going to match what type of room?
Bring forth your sense of fashion and style by choosing the right color window treatments with the rest of your room. You need to know the following for this. It is important to select color according to the theme within your room.
Which is the right color?
Curtains of red color might be the appropriate selection for the kitchen, dining room or bedroom. Red happens to be the shade of fashion! Bright reds are quite eye-catching and can be the center of attraction in the room on most occasions. Select earthier and darker reds for something more classic and something which makes the perfect balance.
A sense of comfort is created by curtains of the orange color. You will often find this color in the living rooms and also in spaces where the family assembles. An additional dimension can be added to the appearance of your room without any problem at all by a soft orange.
While choosing the right color window treatments, you can also use curtains of the yellow color for decorating your living room which will help to make your visitors feel more comfortable as well as relaxed.
On the other hand, the best modern window treatments will come alive with the blue color as well. This would be ideal for hanging in your bedroom as well as the workspace of your residence.
Custom window blinds
Well-made window treatments will help you to save your cash invested in cooling as well as heating your room. It will provide you with the required privacy as well. A window blind is going to block the view of an observer and it will not be possible for an outsider to see anything within your house as long as the blinds are shut.
While selecting the window treatments, choosing the right color window treatments is extremely essential along with its style and quality. Blinds happen to be of only one color without much design whatsoever. The most risk-free choice happens to be neutral shades such as those of white, black, beige, and cream since they usually go well with the present décor within your house. Selecting all these previously mentioned colors will provide your space with an upscale as well as laid-back appearance. It will help the room to appear more creative, stylish, and it will enhance its value as well. Try to think about how the best colors interact with light and heat; while dark colors are going to absorb light, the lighter shades happen to be more reflective.
Silver Metallic Blinds
While choosing the right color window treatments, one nice color to go for will be silver. Make use of silver window blinds for increasing the attractiveness of your toilet. Also, try to accent the windows in your living room using silver-colored blinds which will add glamour to your space. Window blinds with silver shades will be able to bring a couple of opposite eras, namely contemporary as well as vintage to any particular room. A rather rustic feel can be brought on by the matte silver window blinds while a dedicated modern feel can be brought on within the room by glossy and polished silver window blinds.
Dark brown faux wooden blinds
In case you'd like to get the appearance of wooden blinds for your attractive home, there are plenty of reasons for going for faux wood blinds out there. Apart from being extremely simple to clean, these are likewise trendy and attractive besides being extremely affordable plus moisture as well as steam resistant. While choosing the right color window treatments you are going to have several choices when it comes to color. Several color selections will be available for your blinds which can enhance the beauty of your room successfully. Opt for the dark brown faux wooden blinds for adding the flawless beauty plus style decor to the room. It is important to choose a bright color since these will be ideal for your workspace or office.
Perfect window treatments with bright color and smart shades
Shades happen to be fabric pieces that either fold or roll up thus enabling you to see through the windows. Bright color for window treatments such as red and orange will help to excite the mind as well as the body. Choosing the right color window treatments and adding vibrant shades to these treatments will help to develop excitement in the decor of the room and also express your persona. These colors for the right curtains in the room will help to make individuals feel motivated and energetic in the long run. Choosing the right color window treatments with bright shades within your rooms will help you to feel active and lively.
Window treatment colors will be able to influence how light is perceived once the shades are drawn. Choosing the right color window treatments of brighter shades will help to bring a sensation of activity and excitement while choosing the right color window treatments of neutral shades will help to bring a feeling of calmness. While dark colors can help to make the room appear smaller, lighter shades will be able to make smaller spaces appear bigger in case they are used flawlessly.
Choosing the right color window treatments is imperative since it will help to energize your home in the best possible manner. The best color will be able to transform the space into a rather stylish and trendy one successfully in the long run. Hopefully, with all these above-mentioned guidelines you will be able to build the perfect living space and bedroom without any problem whatsoever.
READ MORE
No one can deny the fact that every room will appear better with natural light. However, you need to pay a price for natural lighting and it is quite difficult to control as well. It is particularly true in case you have got plenty of tall windows where the regular window shades will not be able to get the job done for you. It is one reason why remote control draperies have become extremely popular at present and you will be able to simply fill your home with the rays of the sun by pressing a button. Also, you will be able to block out the sun rays quite easily.
Quite a few remote control draperies are available on the market at present, and therefore, it is quite difficult to select the best remote control blinds for your windows. However, there is no need to worry since there is a certain way for you to purchase the best quality remote control draperies out there.
So, what is important for you to look out while purchasing remote control draperies for your automated and smart home? You have to perform some research and go the extra mile for finding out the best products for your windows. While purchasing remote control curtains online for your window treatments it is important for you to stick to the products having the following features.
1. Battery-powered remote control blinds
It is a fact that remote control draperies which are operated by DC batteries happen to be more convenient as compared to those which are operated by AC batteries. These types of window treatments are not going to depend on the electrical power's availability for operation as compared to the AC powered ones.
These must be scheduled by you for shutting and covering the window simply by pressing a button which will be positioned on the smartphone or remote control. While selecting battery-operated remote control draperies, go for one that comes with a long-lasting battery. There are several blinds available on the market which can run on batteries that can go on for as many as three years without any need to replace them.
2. Wired or Wireless remote control draperies
Purchase remote control draperies that can be connected to the internal network of your residence for simple remote control. These types of lines can be connected to the network of your residence either using a wired connection or even wirelessly. This implies that it will be possible for you to command their controllers to which these are connected either by means of a wire or wirelessly for shutting them whenever required. Here we like to mention that wired or wireless motorized blinds come at different prices and you have to select the one as per your convenience.
3. Style and quality of remote control blinds
One more essential feature that you must take into consideration while purchasing these types of blind controls happens to be their style and quality. You will come across plenty of controls having various types of quality and style. You should purchase those that will be able to operate smoothly and speedily without making any sort of noise for your convenience. Moreover, you will be able to purchase those having a warranty since in case they become faulty you will be able to get a replacement instantly without any problem. Make it a point to purchase these smart curtains from reputable companies with proper customer service and also lots of reputation.
Here we would like to mention that knowing that remote control draperies are a smart idea is only the first step. You have to understand the best way to getting started. Go on reading in case you'd like to know more.
1. Select your brand
This particular step is quite obvious when it comes to purchasing remote control draperies out there. Make sure to go for any brand which is trustworthy as well as reliable. They should be able to handle all the different aspects of lighting control that will include natural lighting as well.
2. Personalize your remote control draperies
While thinking of any convenient and practical fixture, it might appear to you that it is also boring and generic. However, there is no need to compromise your style with the best brands on the market. You will have the choice of unending fabrics, patterns, as well as styles depending on what you'd like to get for your room's design. You can go for anything from honeycomb shades to Roman ones. A reputed brand should have it all.
3. Ditch the sticks and strings
The beauty of a remote control drapery is a fact that there is no need to go up to every single window manually for closing and opening them. Instead, there are lots of options available to you. For one, it would be possible for you to adjust the proper positioning of the blinds right from your tablet or smartphone. Of course, you can use the remote control as well. At present, there are plenty of applications out there that will help you to get the job done flawlessly and easily. Apart from this, installing wall stitches can also be a good idea that will fit seamlessly into the design of your house.
4. Automate
It will be a nice idea to be able to control the remote control draperies by simply pushing a button. However, it will be possible to make it even better by selecting the best motorized curtains that can open as well as close automatically.
Apart from all these guidelines on how to select the best remote control draperies, there are several more tips that we have not covered in this article. In case you like to enrich your knowledge on this topic of choosing the best remote control draperies, feel free to go online and look at the relevant videos and articles most of which will be available free of cost to you. However, let us hope that this above-mentioned article will be able to help you in getting the job done in the best possible manner.
READ MORE