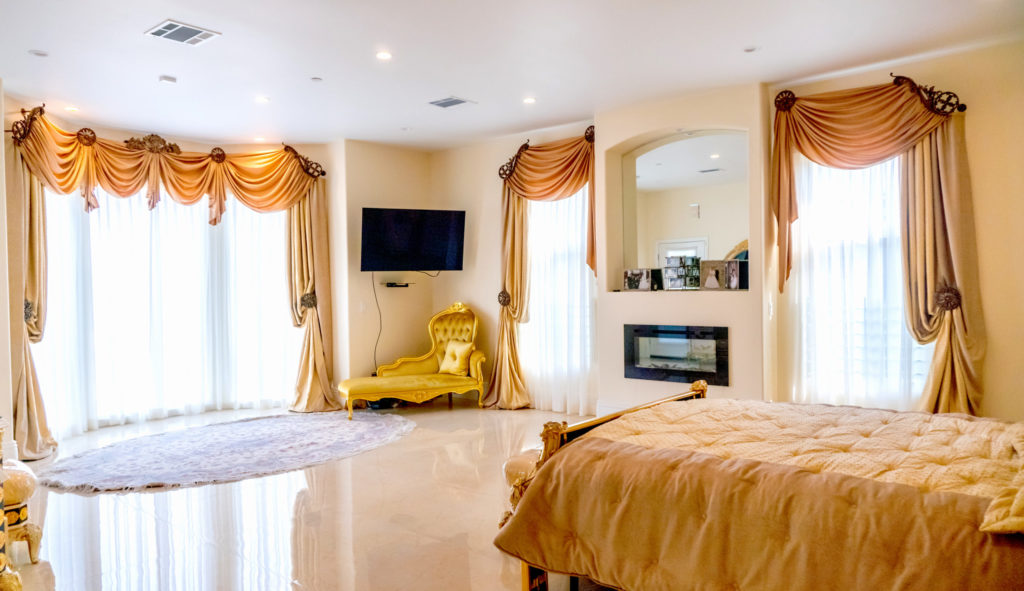 Curtains are far more than just random bits of fabric that block out light and provide protection at night. They, like all other elements of interior design, contribute to the overall aesthetics of a space and the overall composition of your house. A poor curtain selection can also make a significant difference in the ambiance and vitality of a venue. Instead of being background players, the right curtains will complement the decor of your bedroom, lounge, or dining room, and blend in with other interior design features to neatly finish the piece. Curtains are considered a multipurpose interior designing item which can be used for various of purposes inside home. But what are these purposes that makes this fabric an important and useful home décor element? Let's take a look –
Using curtains as a living space divider is a fun and creative way to bring interest and variety to contemporary interior design and decor. Drapes partition a room into two temporary living spaces in an effective and appealing way. To make an elegant room divider, you'll need a lovely drapery cloth, a curtain cable set, and drapery grommets. Choose a curtain style that hangs flat when completely stretched, such as a tab top drapery design, a pocket curtain, or a grommeted design.
If you have an unusable door or entrance, using drapery fabric to cover such space with a variety of interesting drapery patterns that matches wall-color is a fantastic idea. In the winter, you should decorate a door to your porch or balcony to keep your home warm and inviting. Floor-length draperies that match your window treatments make your room look more elegant. Use the same draperies on the windows and doors to give the appearance of a trendy and sophisticated interior design.
Curtains are also suitable for creating privacy around a sleeping area, such as in studio apartments where the living room doubles as a bedroom or in multi-purpose spaces with a guest bed. Black-out and sound-dampening curtains are especially helpful if any people may need to use the space while others are sleeping.
A curtained-off desk might be an easy option if you don't have room for an office or research but still need a dedicated work space. It means you can quickly close it up at the end of the day and provide a barrier between work and home life – which is especially important if it's in a living room or bedroom where comfort is important. After all, no one needs to be bothered by stacks of papers or incomplete to-do lists while trying to relax or sleep! The desk is situated in one of the examples below, so the curtain serves two purposes; in the other, it sits in a nook that can be screened off or opened up if desired.
Bookcases, Open wardrobes, hanging rails, the kitchen island, sinks, and shelves all benefit from drapes. Drapery fabric protects books and clothes on open shelves from dust and the sun's harmful rays. Beautiful draperies are also great for decorating storage areas that we don't want to see all of the time. These eyesores are transformed into something lovely thanks to stunning drapery designs and textures. Vintage home decor ideas for a glass door and soft curtains Using picture frame molding to frame the exterior of the bookcase first for a full-height bookcase with open shelves. Install one of the light drapery rods within the very top of the frame such that the curtain seems to be streaming straight out of the frame.
The significance of curtains in terms of home decor cannot be overstated. They're brilliant as both glamorous show-stealers and complementing backdrops, but that's not it! Curtains, when used thoughtfully, will help you achieve your ideal architectural objectives and deceive the eye, make space appear larger or smaller (as desired).
READ MORE
Your room's look is molded by curtains completely, and we know you value this statement too. Starting from acting like an insulation and privacy provider, curtains are outstanding and crucial element to shape your room differently. Usually when you look around yourself, you observe curtains handing in a usual manner making it a cliché idea to apply on your new home décor. Here are some super amazing guides to dress up your room with curtains, adding a creative outlook to the room.
Before walking through curtain hanging ideas, let's show you certain DIY Curtains and installation ideas to increase your scope for curtain decorations.
Curtain Track
It is an elegant way to hang curtains which are not visible from outside, giving you a clean look. These are also preferred for curved windows letting curtains to smoothly move from one edge to other without distorting the room look. If you are searching for DIY Sliding glass door curtains, Curtain track will blend easily with it.
Curtain Pole
A curtain pole is installed at outer surface of the window and is displayed above the curtains. It is really effective if you are planning to install heavy curtain to your window.
Overlapping Curtains
It will be a classing and graceful look of your curtain, especially if it's a sheer one, put tow layer of curtains above each other while connecting the clip curtain rings of them into the curtain rod.
Curtain Rod
You can put a tiny rod at the edge of your window and sip it into the hole of the curtain. After the curtain hole gets inserted into it, put the other corner of the rod to the window and enjoy the classy look of the curtain.
Below are the DIY curtain hanging ideas that you are looking for your room to make it an interesting one.
You can turn your curtain fabric back on itself to create a pocket which can be slipped into curtain rod. Thus pole pocket curtain hanging idea will give your curtain a heavy look.  
Here the curtains are hooked with rings that are put onto the curtain pole. It's the most easy and simple way to hang and remove curtains, with an elegant touch.
Eyelet hanging curtains will give you a pleasant soft folded look to the window treatments which is installed upon curtain poles. And for putting curtains in your sliding door, eyelet will be the best DIY sliding glass door curtains for it.
Tab-top curtains can be handed with curtain poles as they have loops at the top, giving it an urban look. These are really explosive curtains and so, use a good quality fabric here for good finish
To give your home a cool, rustic and relaxed style, Tie-top DIY curtain hanging ideas is worth of it. You need to simply tie up ribbons attached at the curtain top around the rod. Use light fabric and linens with that.
These are the long, tight folds of curtains on the rod, giving it a pencil shape. You can experiment different colors and weight with it.
Tab-top curtains can be handed with curtain poles as they have loops at the top, giving it an urban look. These are really explosive curtains and so, use a good quality fabric here for good finish
To give your home a cool, rustic and relaxed style, Tie-top DIY curtain hanging ideas is worth of it. You need to simply tie up ribbons attached at the curtain top around the rod. Use light fabric and linens with that.
These are the long, tight folds of curtains on the rod, giving it a pencil shape. You can experiment different colors and weight with it.
READ MORE
Getting a hold on draperies and curtains for the interior of a house can sometimes be challenging for a wide range of reasons. Until and unless you are an interior designer or have an eye for decoration of house interior, choosing a window frame or covering for the indoor space is difficult. The best way out of such problems is by using custom made curtains. Custom made curtains are one of the most simple and a very easy way that can drastically change the overall aesthetics of a home. Adding a set of custom made drapery to a living room or a bedroom or any other space as such has got a huge number of benefits. These custom made curtains have got some other benefits too. From softening the overall look and feel to adding some texture and warmth to the space where installed, custom made curtains are something that every house owner should opt for. Though sometimes it is indeed true that custom made curtains aren't inexpensive, but the overall perks of having them installed in a house can save the owner from both drainage of extra money and headache in the future years. All our products from the house of Galaxy Designs especially that of draperies hardware and custom-made curtains can be designed and crafted according to your need, your style, and your essence. All these custom-made products when installed can surely create an essence of its own. We at Galaxy Design make use of very high-quality fabric for all our custom made curtains such that our buyers can enjoy complete peace of mind. Here is a brief portfolio of our latest range of custom made curtains.
7-VPSh_Triple Standard Custom Made Drapes: The 7-VPSh_Triple Standard custom made curtains is one of the most luxurious custom-made curtains online. With this custom-made curtain package, the owner gets a versatile and timeless addition that can be easily coupled to any room décor. The fabric used over here works exceptionally good with almost all sorts of sheer fabrics. The user gets to see a long-range of eye-catchy solids in this package that provides a perfect touch of added modernism to the space where it is installed.
Picture Trio Window_2-piece Custom Made Drapes
This custom made drapery is just perfect whenever it comes to showing off your choice and your way of living. The Picture trio custom made curtains go perfectly with any sort of windows or doors irrespective of its location. This custom made curtain panel is constructed in a way such that it gives the user a sense of versatility and timeless design to the overall aesthetics of the room.
Office Room Arch-2 Piece Custom Made Drapery
The office room arch2 custom made curtain panel is designed especially for those who want a sense of exclusivity to their space. This custom made curtain panel is best made for big offices or workplaces. Wherever installed these custom made curtains create a sense of modernism to that area. They look perfect, especially when used with eye-catchy ikats, sheers, or scrolls.
Now, let's look at a few steps that can help any space look better with the help of custom made curtains. Before trying out anything else try to consider these design elements listed below for giving your home interior a new look altogether.
Architectural Style: In order to balance the existing architectural style of the room furnishing with the help of custom made curtains, always try considering your material preference. In the very first place, all you need to do is to identify the existing room style and make a pattern of the new style that you want to portray. Apart from that, it is also very essential to consider the overall functionality of the space and then decide if you want to give that space a formal or an informal look. This thing is especially important because custom made curtains are mostly unlined and are mostly used for creating a casual or a semi-formal appearance whereas the drapes are usually lines and provides a better formal look.

Space Perception: Completely depending on the overall purpose of the space, the focal points present in a room is something that will be drawing everyone's attention. This is the main reason why the window treatment should never be an afterthought option and custom made curtains should always be used. In case if the room size is on the smaller side, custom made curtains can be tailored a bit long and can be hunger higher up than the window frames. Remember curtains and draperies that are a bit longer in length are considered to be a bit more formal whereas curtains that are short usually portray a casual and relaxed look.

Texture And Color: Remember whenever you are looking for custom made curtains, always try to keep the overall functional attributes and the materials in and around the room in mind. Remember the color and texture of the custom made curtains determine the overall scheme of the space. The darker the color scheme is, the more it will be standing out and the lighter the color tone is, the more it will recede. The patterns and texture of the fabrics play a very important role in the overall transformation of the room by bringing all elements of a room in one place.

Lighting Scheme: Before you start with your room decoration, you must consider the natural lighting of a room. A right set of custom made curtains not only enhances the size of a window but it also helps in filtering excess light into a room
We, at Galaxy Design, take pride in providing only the best products to our valued customers Our customers can enjoy guaranteed peace of mind as we always stand behind all our products. All our custom made curtains and hardware come with a lifelong guarantee. It is our duty to guarantee that all the window treatments fit exactly to your house window and in case it doesn't we do accept returns and fix them for you at no extra cost. If you are in search of custom made drapes and valences near me don't forget to visit our website at Galaxy Designs.
READ MORE