The keys to your new home are in your hand, and you finally own your dream home you have been wishing for since your childhood. But the actual thing that makes your home picture-perfect is still ahead of you. Update your space with luxurious window treatments that speak of your style preferences.
Galaxy Design offers a comprehensive solution to your curtain and drapery requirements. We believe your new home deserves custom window treatments that can allow an air of elegance to your rooms. With the luxurious feel and soothing elegance, our drapes and curtains are expertly crafted to transform your home.
If you are planning to invite your friends to your home for an event but your home is not aesthetically ready to grace your event, Galaxy Design has the best solution to help you create an elegant and relaxing space for your event. Explore our custom-made drapes, blinds, curtains, and drapery hardware to uplift your home décor.
What's Your Home's Interior Theme?
Window treatments are a major design upgrade for any room. Before you start choosing curtains and drapes, you must make sure you keep your home's interior theme in your mind. Your flooring and color palette can create an amazing aesthetic tone when they harmonize well with the selected window treatment products.  
We at Galaxy Design offer free design consultation to help our clients find the most elegant curtains and drapes for your home.
Is Your Window Ideal for Shades or Drapes?
Look at the size and shape of your windows—they will help you choose ideal products that fit your windows perfectly. Shades are generally recommended for small windows, multi-sectional windows, and the window frames that are high above the floor.
On the other hand, drapes can work beautifully with multi-sectional, and wide & tall windows. Choosing perfect products for your window treatments can add dimension, privacy and sophistication to your space.  
Call Galaxy Design to book an expert consultation in order to find your design for your home or office.
Some of our best window treatment products for your new home are mentioned below. Check out our selections to find the following products:
The Team of Galaxy Design
Galaxy Design is a group of experienced professional designers who are ready to provide solutions to your window covering needs. If you are not sure which design suits your interior décor, our experienced consultants are ready to listen to your window treatment requirements subtly. Our consultants know what to suggest to you as per your style preference and budget.
What are you waiting for? Visit us or dial our phone number to talk to our professional consultants.
Why Choose Us for Your Window Treatment Needs:
If you look forward to creating a relaxing space in your new home, Galaxy Design is your destination to find unique drapery design and attractive hardware for your windows. We have:
Friendly and knowledgeable customer care specialists to help you find a unique design
Experienced designers who work with you until you find the picture-perfect window treatments for your home
Exclusive range of Royal Drapery Designs packages Made in the USA
Hand-painted Captivating Drapery Hardware embellished with Swarovski crystal elements
FREE design consultation for our clients
Window treatment options with a 5-Year warranty and 100% Customer Satisfaction
Call us today and get expert support from our customer-friendly specialists. If you are not satisfied with our elegant drapery packages or other products, let us know your requirements—we will work until you find what you are looking for.  
READ MORE
An expertly-embellished curtain rod can boost the "wow" factor of your window treatments, and help attain the luxurious look for your space. If you're unable to decide on the right curtain rods for your window treatments, you're not alone. Several people cannot choose the right one that complements your window treatments as well as your interior décor.
We've covered all the details you should know before you decide on a particular curtain rod. From the varieties of curtain rods available to purchasing the best-suited ones, this precise guide covers everything that you are looking for.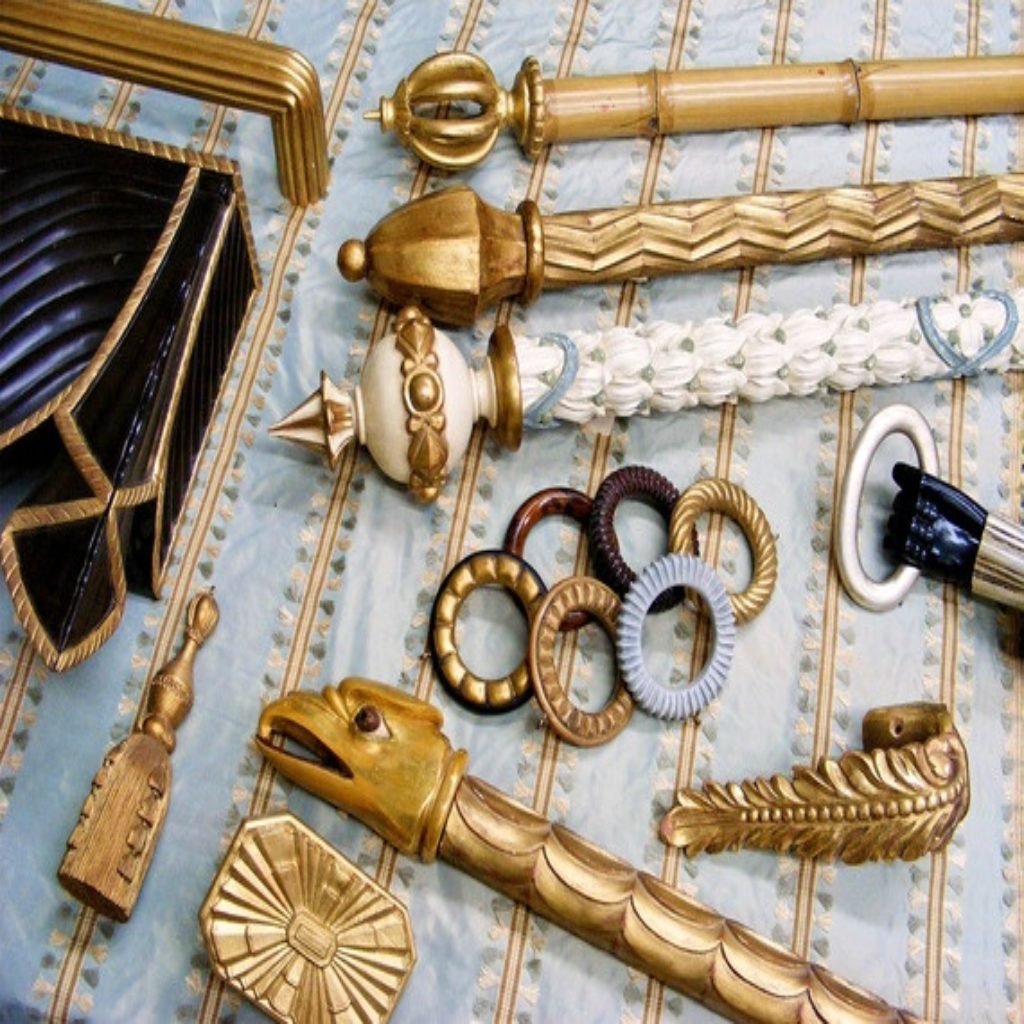 Find out How Much Weight You Want It to Support:
First of all, selecting a curtain rod should rely on the curtain fabric—heavier curtains require robust rods to stay in place for a longer time. If you are planning to install heavier curtains for your window treatments, you should consider purchasing the rods that are crafted to withstand heavy fabric.
Keep Your Room Requirements in Mind:
Some specific rooms certainly require a specific type of curtains and rods. For example, your kitchen and bathroom need custom rods to meet the specific window requirements. They have smaller windows and you need to install valances paired with adjustable rods.
Decide on the Color and Finish:
Now it comes to finding the right color and finish of your curtain rods that add dimension to your windows. If you are planning to install linen curtains, then pair them with a sleek and cast-iron curtain rod to enhance your window treatment.
On the other hand, choosing metallic finish curtain rods can help you add depth to the aesthetic attraction of your room. And wooden curtain rods are frequently recommended to pair with cotton curtains to create a relaxing space.
Take Care of the Length of Your Curtain Rods:
Don't ignore the significance of the length of your curtain rods. As a general rule of thumb, a curtain rod should be 4-6 inches more than the length of your window frame. An extended rod creates a grand look, giving more space to open your window.
Select the Best-Suited Curtain Rods That Suit Your Style and Home Décor:
A carefully-selected curtain rod can add so many elegant touches to your home's unique interior décor. To meet your requirements, manufacturers offer a large selection of decorative rods in different shapes and designs.
Below are some popular types of decorative curtain rods that you can choose for your custom window treatments:
Single Rods: A single rod is one of the most common categories of curtain rod that comes with a single rod and capped with a decorative finial. Such rods are installed to hang single curtains.
Double Rods: As the name suggests, double rods are crafted with two separate parallel rods, along with some other decorative pieces. It is preferably ideal for rooms with large window frames. If you want to install blackout curtains in your living room, using double rods will add to its basic functionality.
Traverse Rods: Traverse rods feature clips to hold the curtains. These rods are generally recommended for wide window frames, or for the rooms that need divider curtains.
Wrapped Rods: Wrapped rods should ideally be used for blackout curtains. If you want to darken a room, go for the wrapped rods that can help you use your curtains to block the sunlight coming into your room.
How to Install Curtain Rods?
Installing a curtain rod may look like a tricky and intimidating task, but Galaxy Design offers some important tips to help you make it easy and flawless exercise for you. Do you have a large window and need privacy/sun protection? Galaxy Designs recommends installing a heavy-duty deco rod, which everything you need.
Watch this video to learn the tips for installing heavy-duty deco rods in your room:
READ MORE